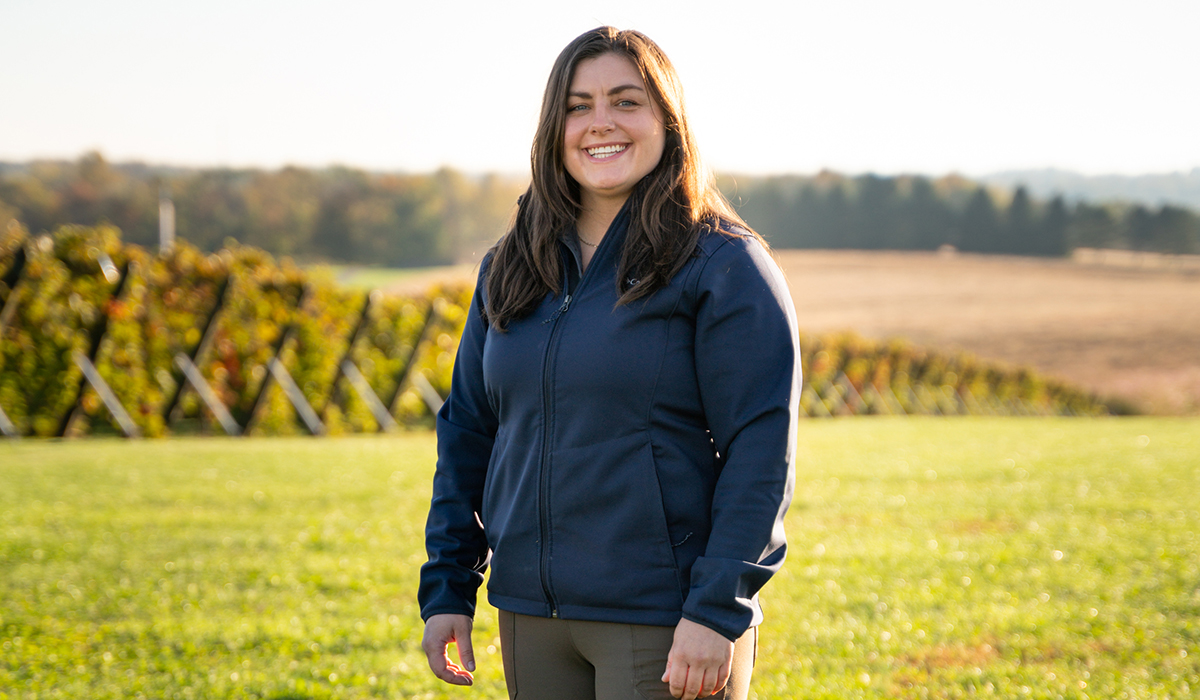 Introducing, Laura Cleary!
Laura's background in viticulture goes from Kentucky to New Zealand and then (to our benefit!) right here to Creekbend Vineyard. Here's a little backstory on how she got here...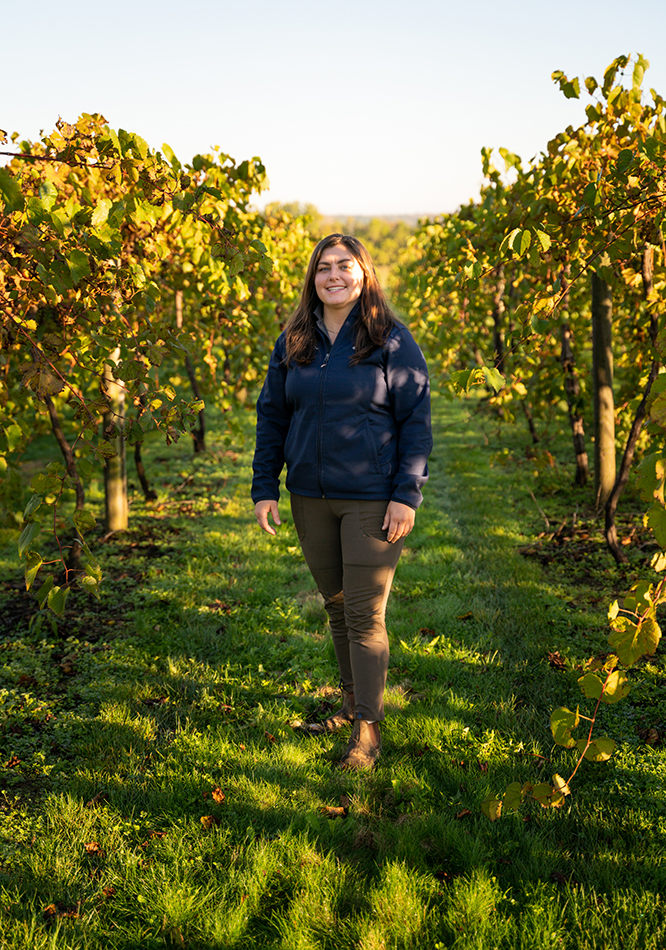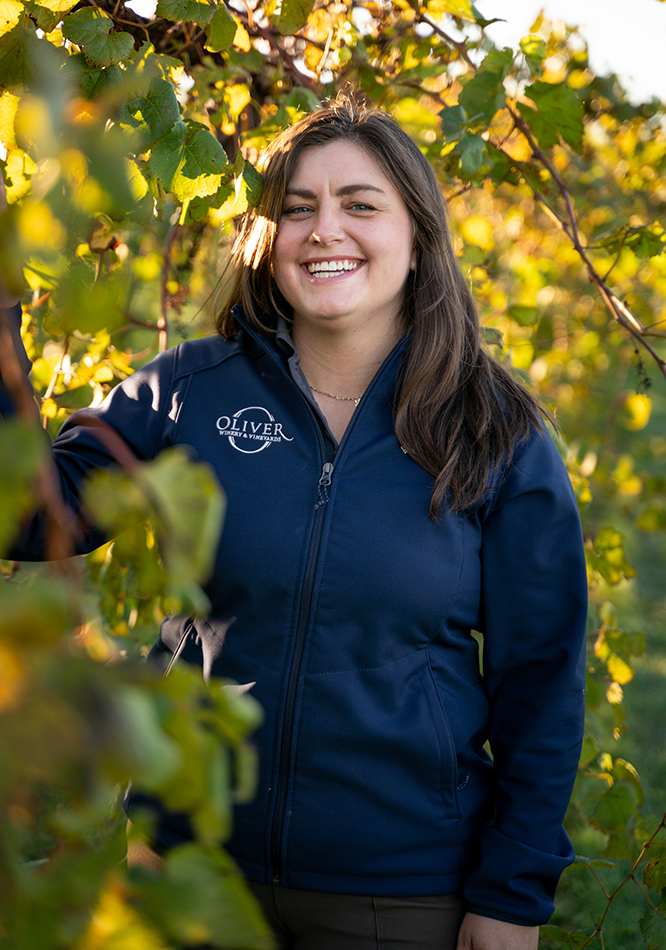 Ever wonder what it takes to run a vineyard? Read on to learn about Laura Cleary's journey to Creekbend Vineyard, her favorite Indiana grapes to work with, and her winemaking philosophy.
How did you get started in winemaking?
Laura Cleary: My undergraduate curriculum in food science allowed me the opportunity to visit and tour various distilleries in my bourbon saturated home-state of Kentucky, but it was through my sustainable agriculture program that I first got to work with grapes and apples for wine and cider production. My alma mater, University of Kentucky, had a brand-new certification program for winemaking, brewing and distillation sciences. Several of those classes brought me into the small research vineyard and orchard. I spent time after class volunteering in the cellar and fell in love with seeing the process come full circle — vine to wine.
After graduation, I moved to New Zealand's Otago region on a working holiday visa program and worked with a viticulture consulting group. We primarily worked with organic and biodynamic vineyards, which I'm very passionate about. It's very low intervention, no true pesticides are used, and there is a lot of natural fermentation.
After New Zealand, I managed a small vineyard back home in Kentucky that produced truly exceptional wine. I managed it alone, with the exception of harvest and had some help pruning and tying down. Last year, that vineyard's wine won the Kentucky Commonwealth's Commissioner's Cup. I learned a lot there and was pretty proud of our success.
I spent the last several years working as a cidermaker for an urban cidery start-up producing drier heirloom sparkling ciders. I love being in the lab, but I also love being in the field, and I really missed working outside. I was recruited for the role of vineyard manager at Oliver Winery when our former vineyard manager, Bernie Parker, announced his retirement after over two decades of growing Creekbend Vineyard into what it is today.
When the opportunity to work for Oliver Winery presented itself, I was very excited. Bernie has maintained this beautiful property for two decades and it's an honor for me to come in and continue that growth and level of care.
What is the most rewarding part of your job?
Laura: I love work that is both physically and mentally challenging. In the vineyard, you obviously get both. For me, viticulture and winemaking is the perfect marriage of art and science, and that keeps both hemispheres of my brain engaged!
You may not readily see the artistic expression in the vines, but over time, the relationship of a viticulturist comes through in how the canopy and the vines are managed. Canopy management and vine management are critical to the success of the vineyard. It's also important to create a strong collaborative relationship with the winemaker to achieve the best results.
There are few things more rewarding for me than seeing all our efforts in the vineyard pay off when we taste a wine that leaves a lasting impression. It feels great knowing it was a year worth of our efforts and hard work that made that vintage truly shine.
What is a typical day for you as the vineyard manager?
Laura: It very much depends on the season, as there are different tasks required at various times all throughout the year. Late fall, we are gearing up for winter pruning and training, and concluding our post-harvest walkthrough and remedies in the vineyard. The bulk of pruning is done during the dormant season. Pruning determines the number of buds and, ultimately, clusters that will form and grow. Most people might only think about the vineyard at harvest time, but there are a lot of considerations to make during all parts of the year that determine yield and quality come harvest.
Right now, it's important for me to get a really good foundation and reflect back on all of our records that we've kept at Creekbend Vineyard through the years. I want to learn what has worked in the past and continue it, and then make small adjustments and improvements as we go. More than anything, I want to see continued success out here.
What are your favorite grape varieties to work with as an Indiana vineyard manager?
Laura: My favorite grape to work with is Catawba – I'm quite fond of hybrid varieties and this one has a rich history in the Eastern U.S and is known for its V. Labrusca aroma. I liken it to the crushed velvet of the hybrid grape world. Its spicy slipskin paired with citrus and "foxy" notes create excellent wine. It doesn't hurt that it's reliable and hardy through the hot summers and frigid winters here in the Midwest.
We're in a unique area in the Indiana Uplands AVA, and Chambourcin also does very well here. Since we use our Chambourcin for an off-dry rosé and a dry red, it's especially rewarding. Different approaches to canopy management of the same grape for two different wine styles can create two equally stellar wines. That's really motivating.
What is your favorite Oliver wine to drink?
Laura: Tough question! I love the Chambourcin Rosé, as I think that particular varietal lends itself well to this off-dry style with a sweet strawberry nose and crisp finish. I also love the Sparkling Vidal Blanc, made in the méthode champenoise. It offers a lovely bouquet of ripe pear and honeysuckle, and who doesn't love bubbles?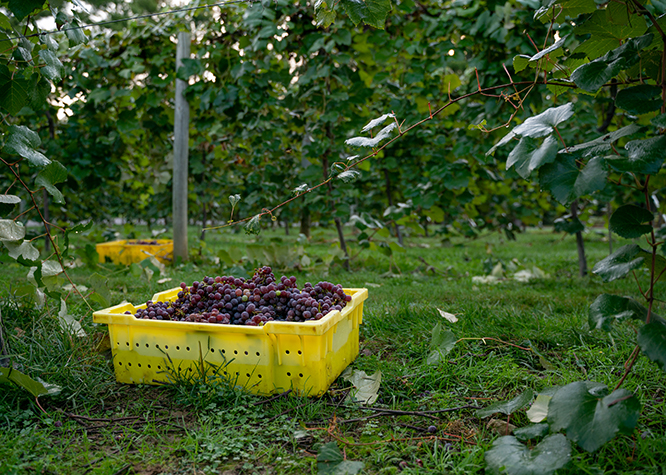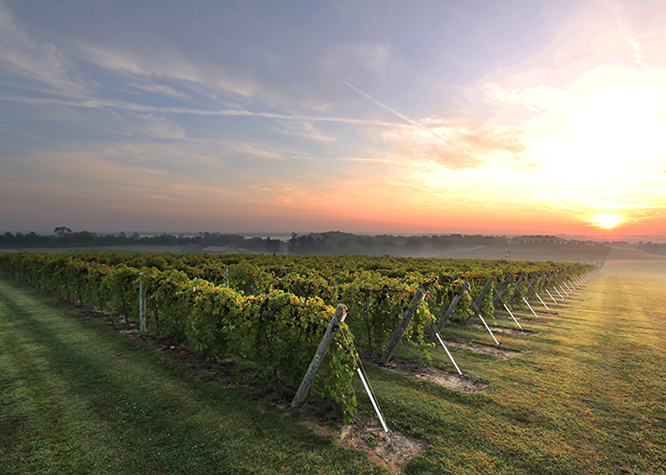 At Oliver, winemaking is our passion.
Great wines are both science and art, and our team crafts each wine in our portfolio with care and attention to detail. We believe all styles of wine deserve respect. Find out more about our winemaking philosophy »
Think you'd love working at Oliver Winery or Creekbend Vineyard? Awesome! We're a community of smart, diverse professionals with big dreams, and we'd love to have you on board. Learn more about careers at Oliver »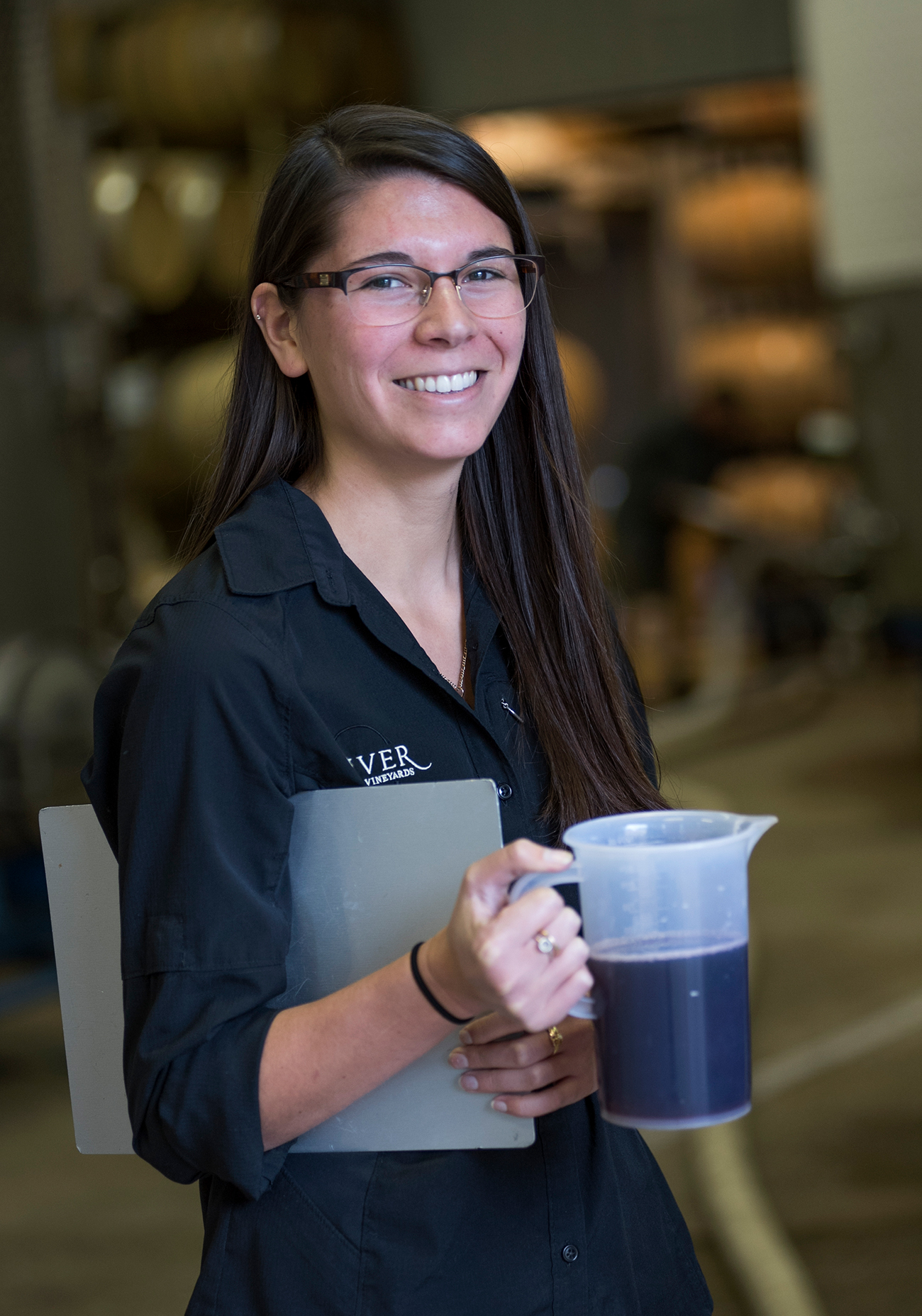 Conversations in Winemaking: Allison Chin
How do you become a winemaker? Read Allison Chin's story: the road to becoming Assistant Winemaker at Oliver Winery.
Read More