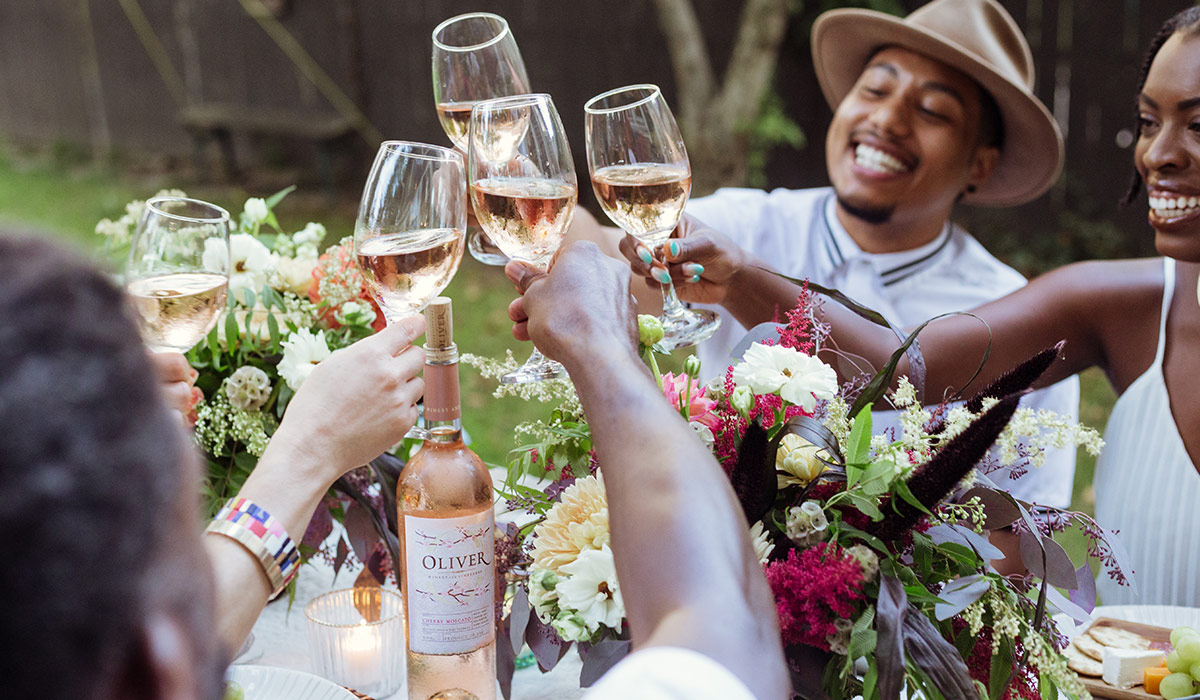 Is it patio season yet? This refreshing, spritzy wine is made with real fruit juice for a tart, subtle cherry kick at the end of every peppy sip.
Our light, low-AVB real-fruit Moscatos are approachable, appealing, and easy to drink. The smooth, balanced flavors pair well with a variety of foods. As a guideline, Oliver Cherry Moscato pairs like a white wine (chicken, fish, pork) and is compatible with anything that red fruits are.
Here's a seriously pro tip: Low-AVB wines like our real-fruit Moscatos pair well with spicy food because it's the alcohol that unfavorably accentuates the oil in those dishes. Low alcohol, hello spicy food! Also avoid buttery, rich foods that pair classically with acidic wines.
Pull up a chair and pour a glass. We have a few more menu suggestions for fun—or fancy—patio nights.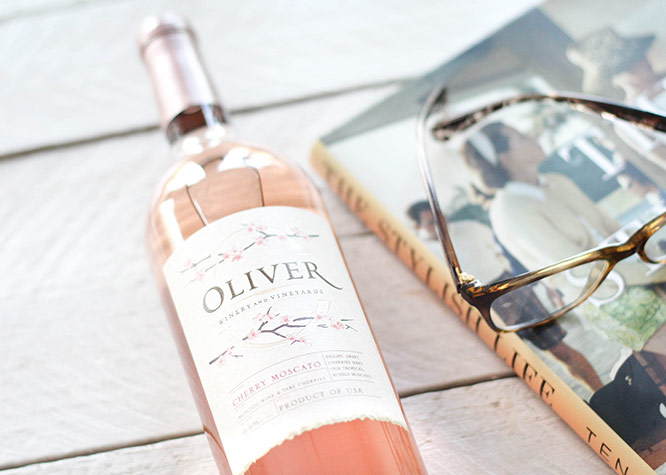 Shared Plates
A Lot of Fun: Pass around a platter of sliders. Smoky burgers with cheddar balance the sweet-and-tart flavor of Cherry Moscato, and the tropical flavor profile also matches up with the tang of those crowd-pleasing baked ham-and-cheese sliders on Hawaiian bread.

A Little Fancy: Is there an occasion that doesn't call for a cheese board? Cherry Moscato is versatile enough to pair well with about any cheese-and-meat combination, but a good starting point to balance Cherry Moscato's profile is a creamy cow or sheep's milk cheese (Brie or blue cheese) with cured Italian meats (prosciutto, mortadella, salami).
On the Grill
A Lot of Fun: Fruity marinades complement the wine's subtle cherry flavor. Cherry-barbecue chicken drumettes or teriyaki chicken kabobs with pineapple and onion aren't overpowering.

A Little Fancy: Keep it light and tropical like the Cherry Moscato itself. Grilled salmon garnished with pineapple, mango, and strawberry salsa fits the bill.
Dinner Date
A Lot of Fun: As long as you two can handle spicy foods without embarrassment, this is a good time to show your confidence in pairing a Cherry Moscato with bold and unexpected flavors. A sweet-and-spicy stir fry with chicken, shrimp, or pork is playful to put together… together.

A Little Fancy: When you pair wine with a mild meat or fish dish, tie it to the sauce because it's the flavor-forward component on the plate. Sea bass is always impressive, and it's mild and slightly sweet, perfect complements to Cherry Moscato. Whip up an orange pan sauce—yes, you can do it! Pan sauces are pretty easy.
Big Finale
A Lot of Fun: Cherry and chocolate are a timeless and intoxicating couple. A dark-chocolate brownie and a glass of wine? How indulgent and unexpected. Do it!

A Little Fancy: Put a creative spin on the classic, elegant French poached pear by using Cherry Moscato as the poaching liquid. The wine's pear notes will make this dish sing.
Peach Pie Wine is back to kick off patio season! We can't wait for long weekends with a couple bottles of this versatile, low-ABV sipper. These four serving tips will take you from Thirsty Thursday through Sunday Funday.
Confession: We have a new crush. Actually a dozen of them—these Lemon Moscato pairings for a Galentine's Day gathering. With a low ABV and fruit-forward flavor, our Moscatos are made for bringing friends together.