Have you noticed that in the spring we tend to hunt for the things we love most? Easter eggs, morel mushrooms, picnic spots, the sandals we stored nine months ago—seriously, dig out those slides and slip-ons now so you can have them resoled. They look and feel like new, and it's an easy indulgence you deserve.
Speaking of effortless treats, add our Peach Pie wine to the springtime search party. This deliciously juicy seasonal wine flies off the shelf when charter members of the Peach Pie fan club stock up in preparation for patio season.
Oliver Peach Pie is a semi-sweet white wine that captures the full flavor of its namesake, from the juicy fruit to the buttery crust to the vanilla ice cream on top.
Peach Pie delivers on the promise of its name, no fork needed. Every sip bursts with bright, fresh peach flavor and the taste of buttery, flaky crust. The finish is a la mode—evoking the smooth sweetness of vanilla ice cream. With a low ABV, Peach Pie is a crowd-pleaser you'll want to keep on hand for weekend fun.
Peach Pie Wine, From Thirsty Thursday to Sunday Funday
We can't wait for long weekends with a couple bottles of this versatile, low-ABV sipper. These four serving tips will take you from Thirsty Thursday through Sunday Funday. (Psst: Here's a hunt-free shortcut—you can order it online).
Thursday
Kick things off with a Peach Pie Old Fashioned. Peaches and bourbon are a classic combination. Follow this recipe and substitute Peach Pie Wine for the orange juice.
Friday
Relax outside with a glass over ice. Pure, simple, and delicious.
Saturday
Grill out. Peach Pie Wine completes an all-American menu of burgers and barbecue. For dessert, make Peach Pie floats by putting peach slices and two scoops of vanilla ice cream in the bottom of a wine glass and filling it with Peach Pie wine.
Sunday
Perfect picnic weather? Pack a chilled bottle and tangy pulled-pork sandwiches, a nice complement to sweet peaches. Cheers to acing the weekend!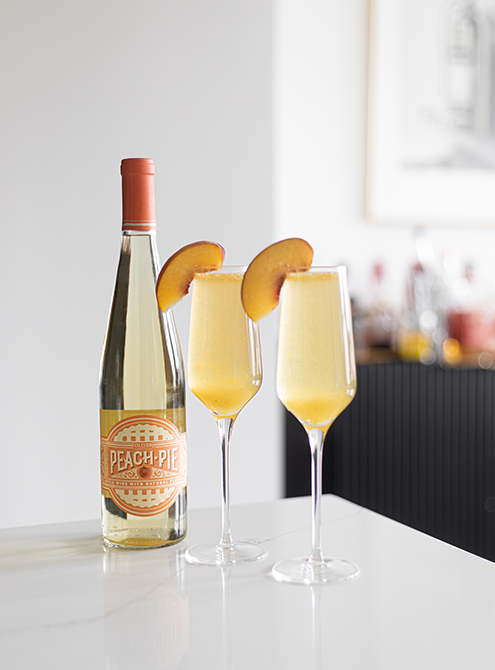 Oliver Peach Pie wine and fresh peach puree plus a bit of spritz combine to create the perfect, simple summer brunch cocktail.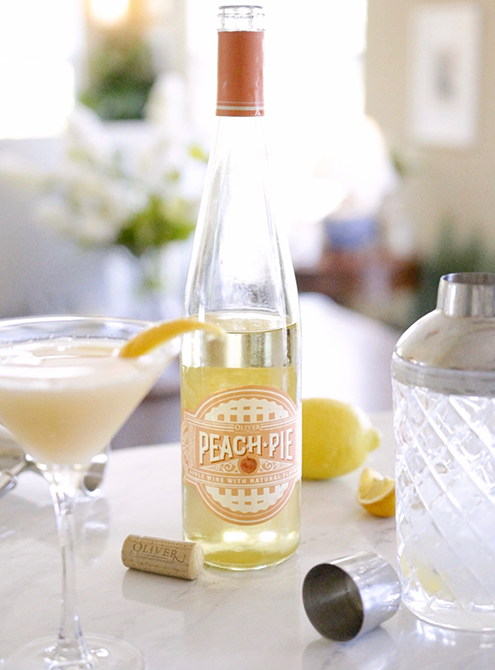 Swing into spring with the perfect peach cocktail! Fruity, frothy, and just-sweet-enough, this is one you'll want to make again and again.