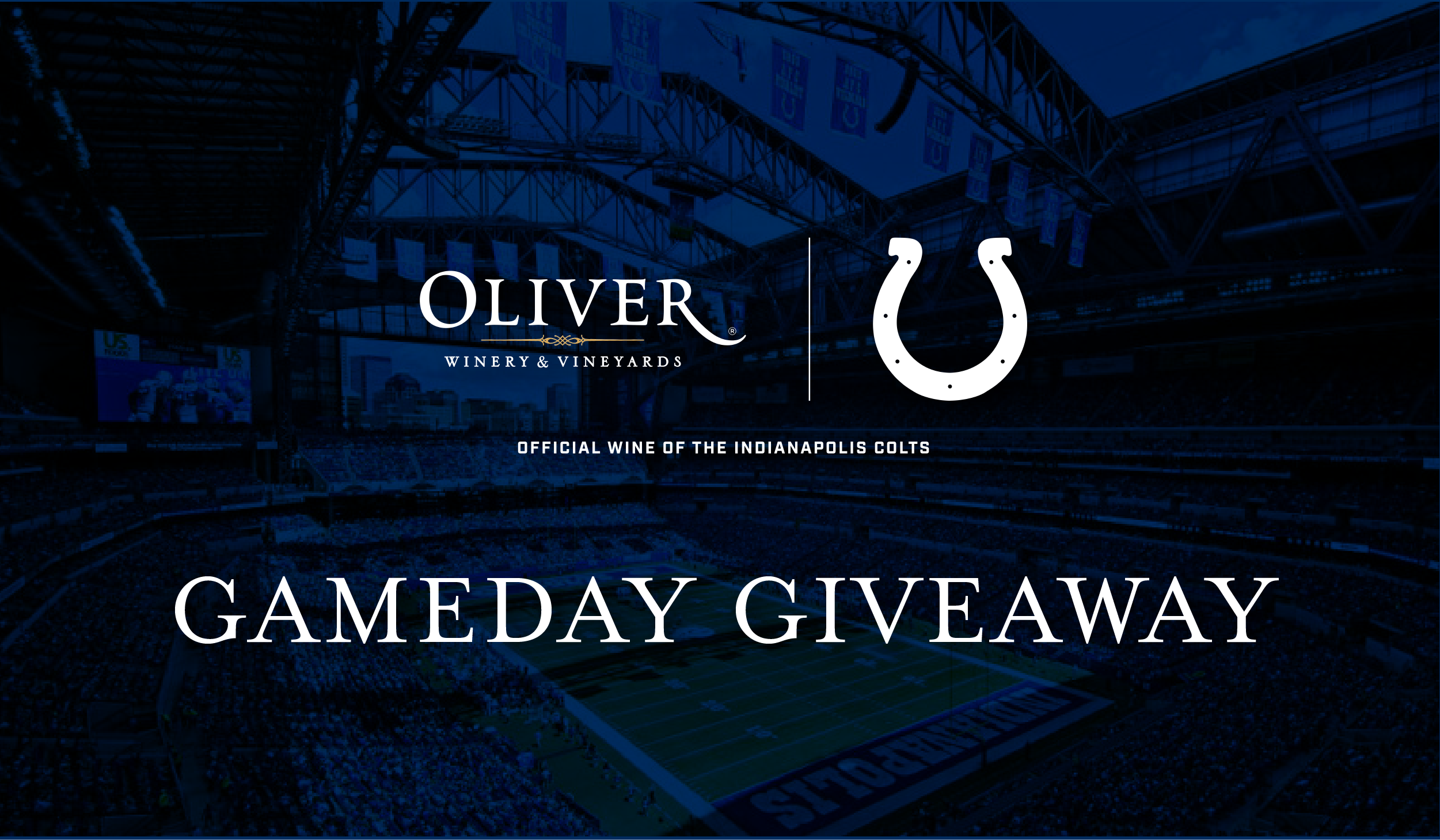 Oliver Winery, the official wine of the Indianapolis Colts, presents a Gameday Giveaway and VIP Colts Experience!
Prize includes:
Four (4) tickets to Colts vs. Tennessee on Sunday, October 2.
One parking pass
Special, pre-game experience for four (4)
Two (2) $100 concession vouchers
OFFICIAL RULES FOR 2022 OLIVER WINERY GAMEDAY SWEEPSTAKES
NO PURCHASE NECESSARY TO ENTER OR WIN THIS SWEEPSTAKES. THIS SWEEPSTAKES IS VOID WHERE PROHIBITED BY LAW. This game may not be used to conduct, advertise, or promote any form of gambling.
1. Eligibility
The 2022 Oliver Winery Gameday Sweepstakes ("Sweepstakes") is open to legal residents of the State of Indiana who are 21 years of age or older as of the date of registration. Employees, officers, directors, agents, and representatives of the Indianapolis Colts, Inc. ("Club"), the National Football League ("NFL"), Oliver Wine Co., Inc. ("Sponsor"), or of any of their parents, subsidiaries, divisions, affiliates, advertising and promotion agencies, or any of those persons' immediate family members, or members of their households, or any individuals who have, in the previous six months, won any sweepstakes or prize sponsored by Club or Sponsor are not eligible to participate or win a prize. By entering, participants agree to these Official Rules and the decisions of Club, Sponsor, and the NFL (collectively, "Released Parties"), which shall be final and binding in all respects. The Sweepstakes is subject to all applicable federal, state, and local laws. Void where prohibited.
2. Sweepstakes Period
The Sweepstakes begins at 12:01 a.m. Eastern Time on August 23, 2022, and ends at 11:59 p.m. Eastern Time on September 22, 2022 (the "Sweepstakes Period"). All entries become the property of Club and will not be acknowledged or returned.
3. How to Enter
Eligible participants can register to win by completing the online entry form located at https://mailchi.mp/oliverwinery/colts-giveaway-2022. LIMIT ONE ENTRY PER HOUSEHOLD OR EMAIL ADDRESS DURING SWEEPSTAKES PERIOD (REGARDLESS OF WHETHER MORE THAN ONE PERSON USES THE SAME E-MAIL ADDRESS). If multiple entries are received, only the first entry will be entered into the Sweepstakes and all other entries will be disregarded. In the event of a dispute as to any entry, the authorized account holder of the e-mail address used to enter will be deemed to be the participant. The "authorized account holder" is the natural person assigned an e-mail address by an Internet access provider, online service provider, or other organization responsible for assigning e-mail addresses for the domain associated with the submitted address. The potential winner may be required to show proof of being the authorized account holder, provided such individual is eligible according to these Official Rules.
4. Prizes and Selection of Winner
One Grand Prize winner will be selected at random on September 22, 2022. The winner will be selected by Club and Sponsor from all eligible entries received during the Sweepstakes Period. The winner will receive four game tickets, one parking pass, a pre-game experience, and four $50.00 concession vouchers to the Colts vs. Tennessee Titans game at Lucas Oil Stadium on October 2, 2022 and a prize pack (the "Prize"). Actual retail value of the Prize is $400.00 USD. Actual value may differ at time of Prize award. The specifics of the Prize shall be solely determined by Sponsor. Odds of winning are dependent on the number of eligible entries received during the Sweepstakes Period. Club will notify the winner individually by e-mail or phone.
The Prize winner must respond within 24 hours of notification or Prize may be forfeited and another potential Prize winner chosen. In the event that the Prize winner is disqualified for any reason, Club may select an alternate Prize winner by random drawing from among all remaining eligible entries.
Prize winner is solely responsible for all applicable federal, state, and local taxes, and any expenses associated with the Prize. No transfer, assignment, or substitution of prize (or portion thereof) is permitted except by Sponsor or Club, which reserve the right to substitute a prize (or portion thereof) with one of comparable or greater value as determined by the Released Parties.
5. Miscellaneous
The Released Parties are not responsible or liable for: lost, incomplete, inaccurate, garbled, late, delayed, undelivered, or misdirected information or registrations, User ID's, or submissions; theft, destruction, or unauthorized access to, or alteration of, submissions or registrations; failures or malfunctions of connections, cable, fiber-optics, network, satellite, Internet Service Provider (ISP), phones, phone-lines, or telephone systems; interrupted or unavailable network, server or other connections; any error, omission, interruption, defect, or delay in any transmission or communication; traffic congestion on the Internet, or for any technical problem, including but not limited to any injury or damage to participant's or any other person's computer related to or resulting from participation in this Sweepstakes; typographical, printing, or other errors in these Official Rules, in any Sweepstakes-related advertisements or other materials; the administration of the Sweepstakes, the processing of entries, selections, or registrations, the selection or announcement of potential winners, or the distribution of prizes; scoring, tabulation, or timing errors, or other problems or errors of any kind whether mechanical, human, electronic, typographical, printing, or otherwise.
By entering, each participant agrees that: (i) Club and Sponsor and their respective designees may use (unless prohibited by law) participants' and their guests', names, residential locations, photographs, and likenesses for advertising, promotional, trade, and any other purposes in any media now or hereafter known throughout the world in perpetuity, without further compensation, permission, or notification except as an endorsement of any commercial product or enterprise other than Club's and Sponsor's; and (ii) the Released Parties and their respective parents, affiliates, subsidiaries, owners, officers, directors, employees, agents, and assigns shall have no liability and will be held harmless, discharged, and released by participant from any claim, action, liability, loss, injury, or damage to participant or any other person or entity, including, without limitation, personal injury or death to participant or any other person or damage to personal or real property, due in whole or in part, directly or indirectly, by reason of the participant's participation in the Sweepstakes or participant's acceptance, possession, use, or misuse of the Prize or participation in this Sweepstakes.
Club and Sponsor, in their sole discretion, reserve the right to: (i) disqualify any person who tampers with the entry process, as described above, the operation of the Sweepstakes page (including the online registration form), or any other component of the Sweepstakes, or who is otherwise in violation of these Official Rules; and (ii) modify, suspend, or terminate this Sweepstakes (or any portion thereof) for any reason, including virus, bug, non-authorized human intervention, war, strikes, pandemic, acts of God, or other cause which may corrupt or impair the administration, security, fairness, or proper play of this Sweepstakes and, in the event of termination, in Club's and Sponsor's discretion, award prizes for completed portions of the Sweepstakes (or applicable portion of the Sweepstakes) to the next eligible participant (as determined by Club and Sponsor) as of the date of the event requiring such termination in accordance with these Official Rules.
CAUTION: ANY ATTEMPT BY ANY PARTICIPANT TO DELIBERATELY DAMAGE ANY WEB SITE OR UNDERMINE THE LEGITIMATE OPERATION OF THE SWEEPSTAKES IS A VIOLATION OF CRIMINAL AND CIVIL LAWS AND SHOULD SUCH AN ATTEMPT BE MADE, CLUB AND SPONSOR RESERVE THE RIGHT TO SEEK DAMAGES AND OTHER REMEDIES FROM ANY SUCH PARTICIPANT TO THE FULLEST EXTENT PERMITTED BY LAW.
6. Use of Data.
Club and Sponsor will be collecting personal data about participants online, in accordance with their respective privacy policies (http://www.colts.com/footer/privacy-policy and https://www.oliverwinery.com/privacy). By participating in the Sweepstakes, participants agree to Club's and Sponsor's collection and usage of their personal information and acknowledge that they have read and accepted Club's and Sponsor's privacy policies. The Prize winner and his or her guest, by acceptance of Prize, except where legally prohibited, grants permission for the Released Parties, and their respective designees, to use Prize winner's and his or her guest's, names, addresses (city and state), photographs, voices, likenesses, and Prize information for advertising, trade, and promotional purposes without further compensation, except as an endorsement of any commercial product or enterprise other than Club's and Sponsor's, in all media now known or hereafter discovered, worldwide, in perpetuity, without notice or review or approval.
By entering, each participant agrees that: (i) Sponsor and Club may retain participant's contact information; (ii) Sponsor and Club may use an autodialer (or other automated technology) to call or text participant's mobile device or provided phone number for marketing purposes; (iii) Participant may revoke this consent at any time by contacting Sponsor and Club, (iv) Participant understands and agrees that authorization to receive autodialed calls and texts is not a condition of purchase of any goods or services.
BY PROVIDING CONTACT INFORMATION, PARTICIPANT CONSENTS TO THE COLLECTION AND STORAGE OF THE INFORMATION PROVIDED. PARTICIPANTS TO THE SWEEPSTAKES MAY RECEIVE MARKETING AND OTHER PROMOTIONAL INFORMATION FROM SPONSOR, CLUB ANDTHEIR AFFILIATED PARTIES AND CONTRACTORS; HOWEVER, ELIGIBILITY TO PARTICIPATE IN THE SWEEPSTAKES IS NOT DEPENDENT UPON PARTICIPANT'S CONSENT TO RECEIVE SUCH MARKETING AND OTHER PROMOTIONAL INFORMATION; AND PARTICIPANTS' CHANCES OF WINNING ARE NOT AFFECTED BY SUCH CONSENT. BY PROVIDING CONTACT INFORMATION, EACH PARTICIPANT CONSENTS TO BEING CONTACTED BY SPONSOR, CLUB, AND THEIR AFFILIATED PARTIES AND CONTRACTORS. CONTACT METHODS MAY INCLUDE MAILINGS, EMAILS, AND TELEPHONE CALLS (INCLUDING THOSE GENERATED FROM AN AUTOMATED TELEPHONE DIALING SYSTEM) AT THE TELEPHONE NUMBER PROVIDED, INCLUDING ANY WIRELESS TELEPHONE NUMBER PROVIDED.
7. Limitation of Liability and Dispute Resolution
Except where prohibited, each participant agrees that: (a) all issues and questions concerning these Official Rules shall be governed by the law of the State of Indiana without giving effect to any principles of conflicts of law of any jurisdiction; (b) any and all disputes, claims, and causes of action at law or in equity arising out of or relating to this Sweepstakes, or any prize awarded shall be: (i) resolved individually, without resort to any form of class action; and (ii) filed only in the courts of the State of Indiana, County of Marion, and participant hereby consents and submits to the personal jurisdiction of such courts for the purposes of litigating any such disputes, claims or causes of action; (c) any and all claims, judgments, and awards shall be limited to actual out-of-pocket costs incurred, but in no event attorneys' fees; and (d) under no circumstances will any participant be permitted to obtain awards for and hereby waives all rights to claim punitive, incidental, special, consequential damages, treble, and any other damages, other than for actual out-of-pocket expenses, and any and all rights to have damages multiplied or otherwise increased.
8. Identification of Winners and Official Rules
For a list containing the winner, or a copy of the Official Rules, participants may send a self-addressed, stamped envelope for receipt by September 23, 2022, to "Oliver Winery Sweepstakes," Attn: Partnerships, Indianapolis Colts, Inc., 7001 W. 56th Street, Indianapolis, IN 46254.
9. Sponsor
The Sweepstakes is sponsored by Oliver Wine Co., Inc., 200 East Winery Road,
Bloomington, IN 47404. The Sweepstakes administered by The Indianapolis Colts, Inc., 7001 W. 56th Street, Indianapolis, Indiana 46254. COLTS is a registered trademark. Oliver Wine Co., Inc. is a registered trademark.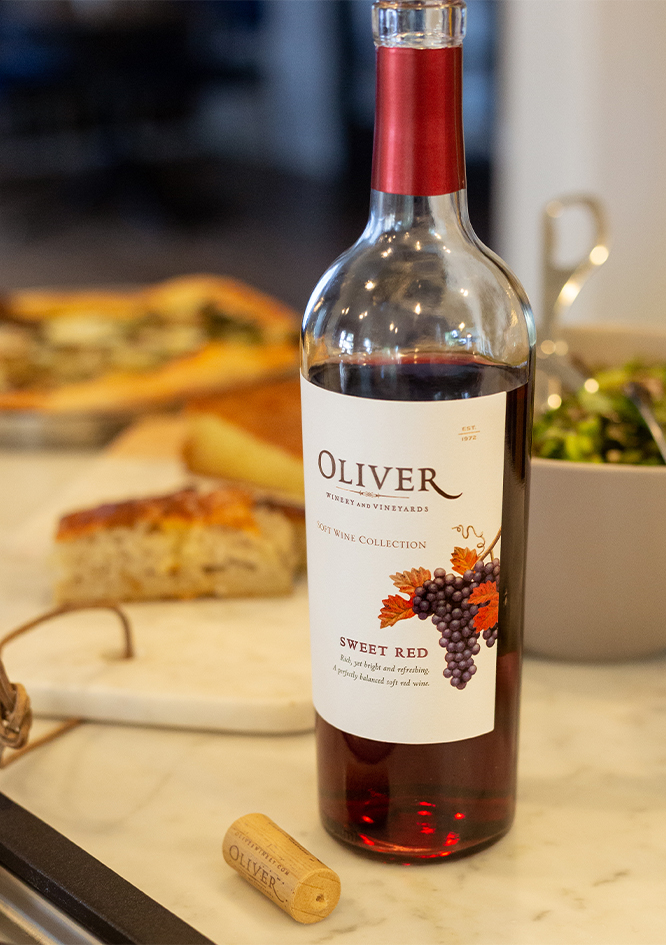 Oliver Winery's signature wine consistently ranks as one of the Top 5 best-selling sweet reds in the country. The refreshingly real Concord grape flavor comes from our inspiration to make the highest quality of approachable, fruit-forward wines. Here are 10+ reasons Oliver's Sweet Red tastes so good.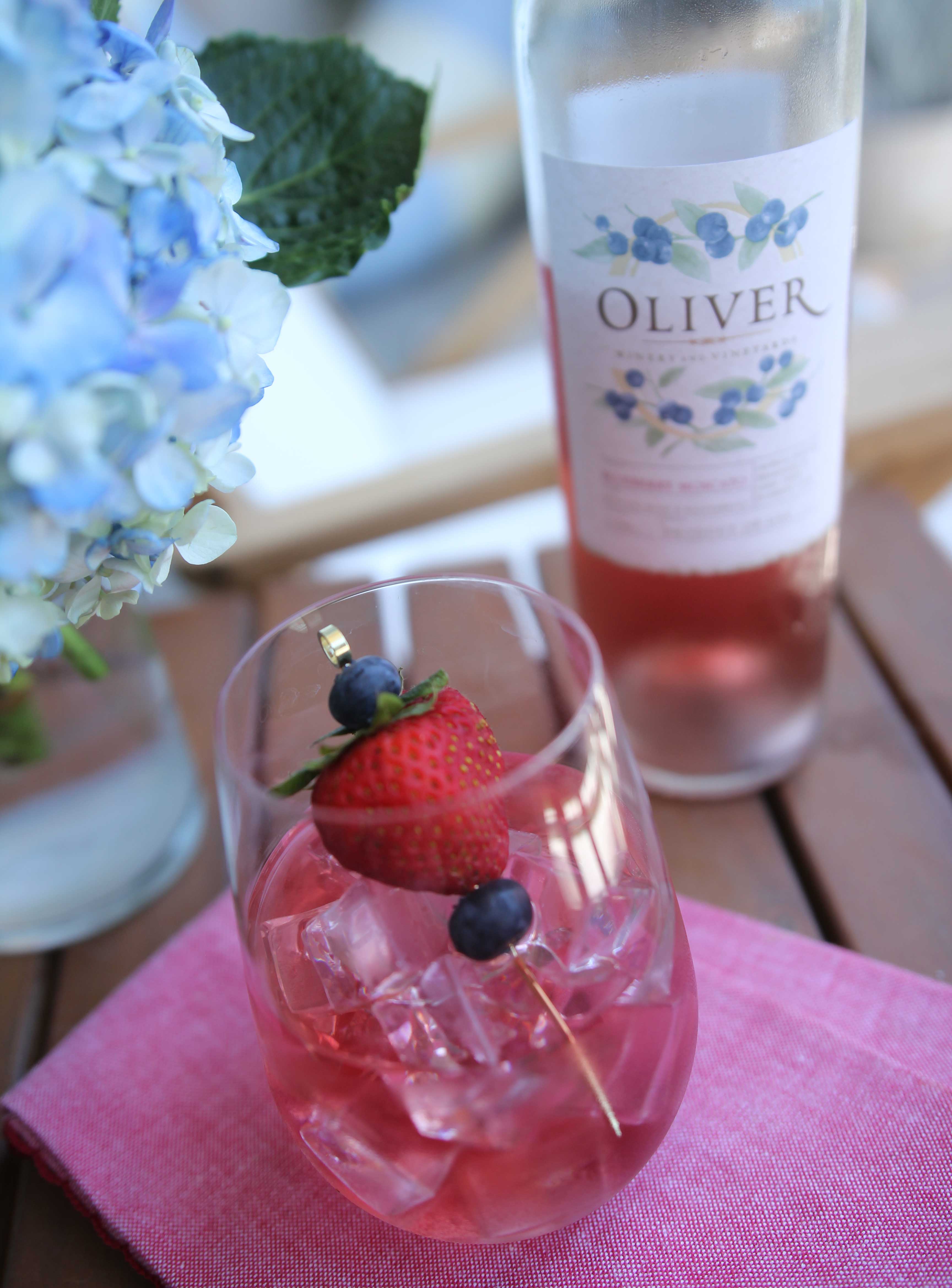 Celebrate all things red, white, and blue! Fire up the grill, fill your backyard patio with friends and family, and await the evening's fireworks show. But wait, don't forget the wine. That should be red, white, and blue, too! Read on for more about our fruity Moscato wines, featuring Cherry Moscato, Moscato, and Blueberry Moscato.