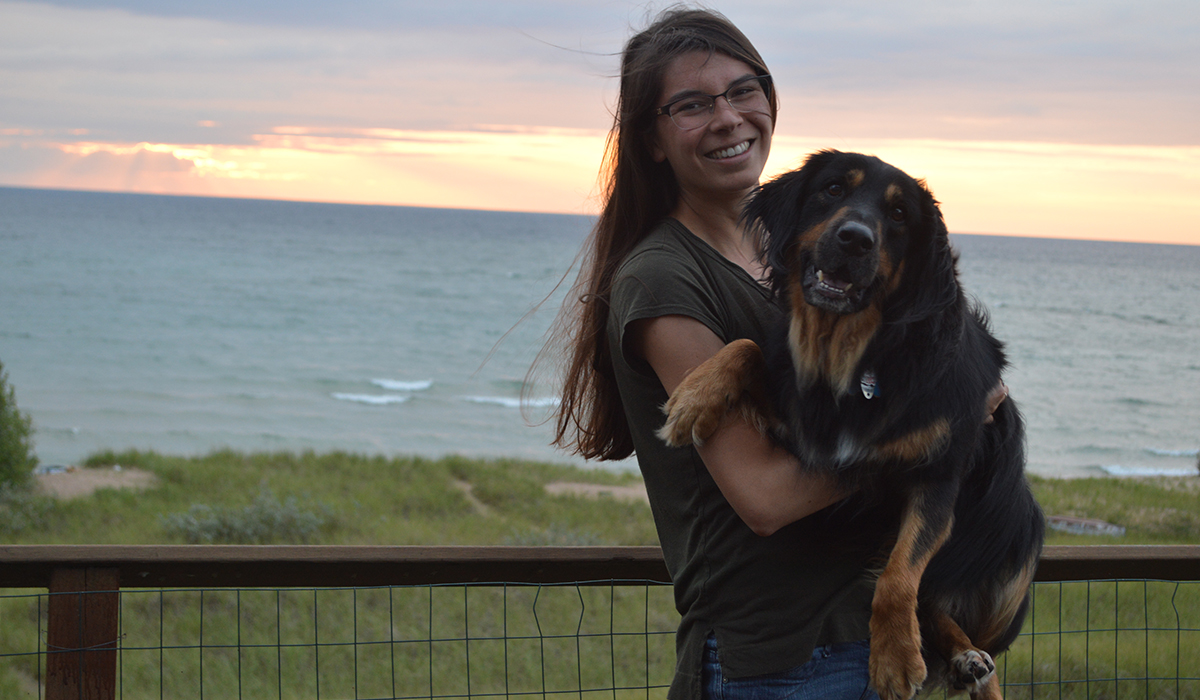 Introducing, Allison Chin!
You might know her as the person who loves Oliver Winery as much as she loves her dogs (that's a lot!), so we thought we'd give you a little backstory...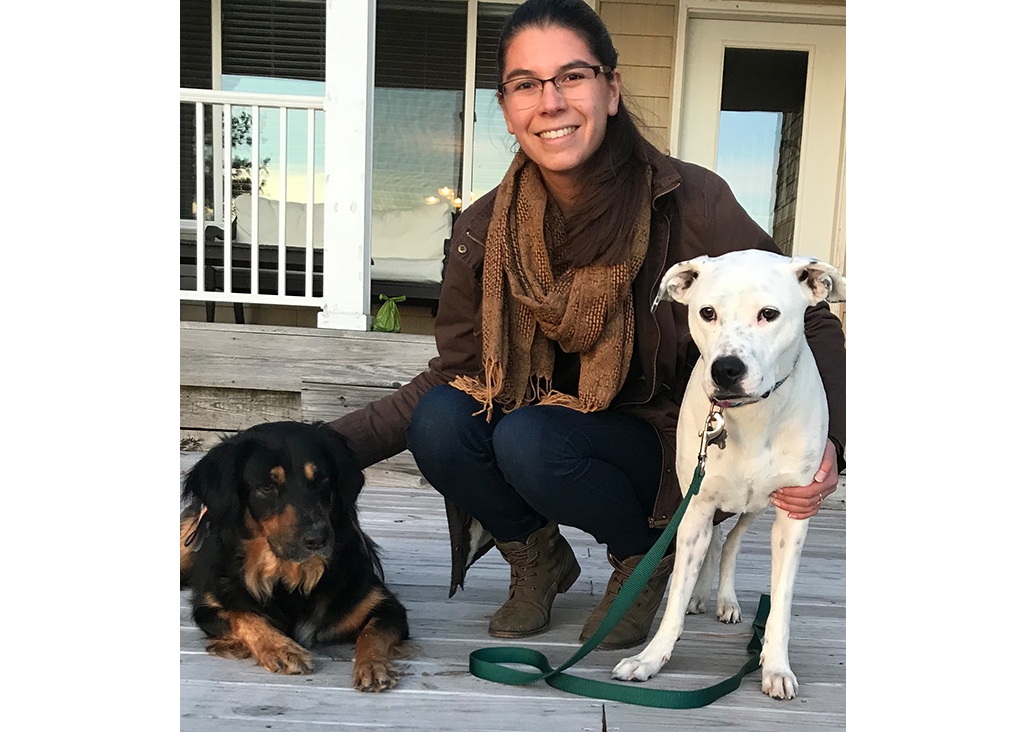 Ever thought about a career in winemaking? Well, Allison didn't. Read on to learn about her road to Oliver Winery, her favorite wines to make and drink, and her steps along the way.
What drew you to the winemaking profession?
AC: "Oliver Winery drew me to the winemaking profession. I graduated from the College of Wooster in 2014, with a degree in Chemistry. I moved to Bloomington with my sister, with plans to live here just for a year. I was looking for something fun to do during my days, so I applied for an internship to work in the lab at Oliver during harvest. I started as the lab intern and quickly learned as much as I could about winemaking. Five years later, and I'm the assistant winemaker. I'm very grateful for the profession and opportunities that Oliver Winery has given me. "
What does a typical day as Assistant Winemaker at Oliver Winery look like?
AC: "Everyday can be a little different. Generally, we first meet as a winemaking team to talk about the daily work that needs to be completed in the cellar.
Then, I do variations of the following activities: I review all the quality control and lab analysis that needs to be completed for the day, evaluate and monitor the health/stage/needs of all our wines, and check that the bottling line is running within our quality control specifications. I manage a three-month schedule to make sure our wines are made in an efficient and timely manner, and with the highest quality standards. Lastly, tasting wine is also part of the day, when I will work on blending trails."
Which Oliver Wine is the most fun/challenging to make?
AC: "The most challenging wine in my opinion is Creekbend III. It's a blend of three different grapes from our Creekbend Vineyard. Being a combination of three varieties, it involves three times the quality control.
Creekbend III also doesn't follow a typical white wine path — two of the varieties will be fermented in barrels and also go through a secondary fermentation to reduce the amount of malic acid. After fermentation is complete, we're ready to pump wine from barrels.
The number of blending options is endless, so making this wine challenging, but also fun."
What is your favorite Oliver wine to drink?
AC: "My favorite Oliver wine to drink depends on the occasion and the season. If I had to pick favorites, it would be Creekbend Vidal Sparkling, Oliver Sauvignon Blanc, and Oliver Cabernet Sauvignon. On the sweeter side, I'm Team Cherry Moscato. But, really, I would drink all of the Oliver wines."
What is the most rewarding part of your job?
AC: "Making a high-quality product that makes so many people happy. We have such a wide distribution of our wines now.
It's so crazy to think that people all across the country are going to stores and picking up our product, then going home with friends and family, and enjoying a wine that I had a hand in making."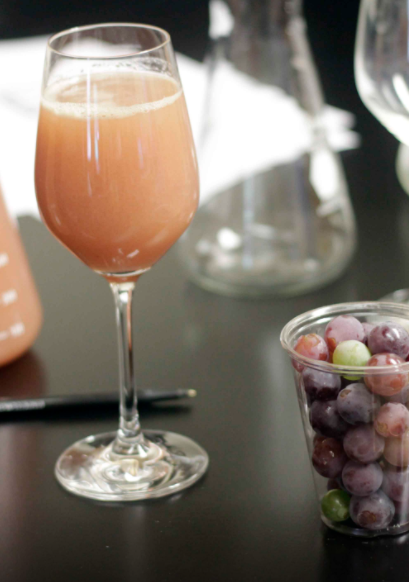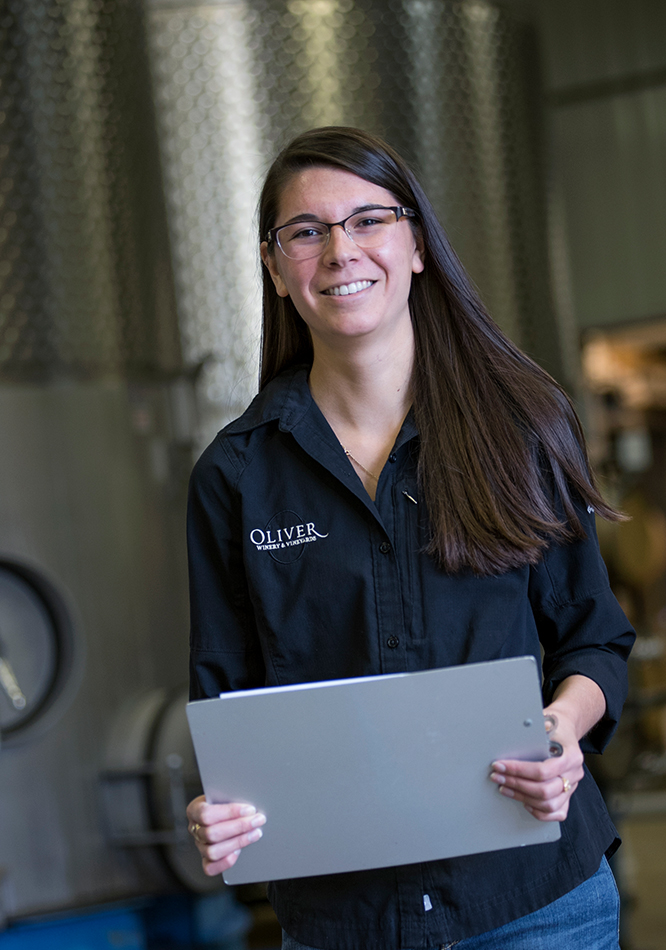 At Oliver, winemaking is our passion.
Great wines are both science and art, and our team crafts each wine in our portfolio with care and attention to detail. We believe all styles of wine deserve respect. Find out more about our winemaking philosophy »
Think you'd love working at Oliver Winery as much as you love your dogs, too? Awesome! We're a community of smart, diverse professionals with big dreams, and we'd love to have you on board. Learn more about careers at Oliver »
How do you become a vineyard manager? Read Laura Cleary's story: the road to becoming Vineyard Manager at Oliver Winery's Creekbend Vineyard.