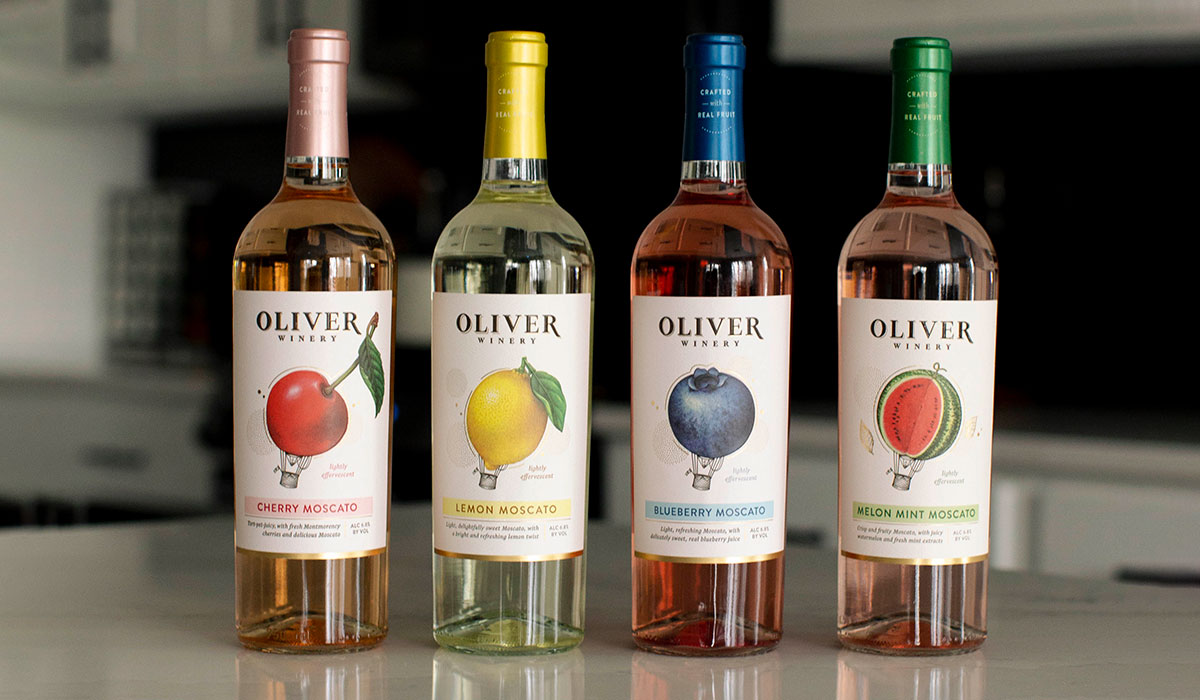 Moscato is a top-selling white wine for all the best reasons—it's unpretentious and a refreshing, sweet sipper. We're here for all of those things. A bottle of the Italian-style white wine is always chilling in our refrigerator, ready to enjoy solo or with friends at a marvelous moment's notice. And, as an added bonus: many of the fruit-flavored Moscato wines on shelves now have a low alcohol content (another glass, please!).
1. Moscato is for everyone and for any day.
Moscato has become one of the most popular wines sold in the United States because it's versatile and lends itself to a wide spectrum of interpretations and a big fan base. (Also because Drake sang about it.) Oliver Moscato is luscious, refreshing, and perfectly balanced so the sweetness is crisp and smooth, not overpowering. It's a go-to wine that's also full of fun character and that is memorable, easy to drink, and purely delicious. We like to call it approachable. And we like to approach it a lot.
2. It's fun and unpretentious.
No matter the variety, Moscato always has a touch of fizziness. The bubbles combined with Moscato's medium body and exotic tropical aromas give Moscato a perky personality. It feels like permission to drink it however you like it, regardless of any so-called rules. Pour it over ice. Pour it over ice cream. Take it on a boat. Take it to the beach. Add a splash of your favorite flavored seltzer water. Go with the Moscato flow and indulge your curiosity and creativity. That's the Moscato vibe.
Summertime is Moscato high season. We dub this sweet white wine the unofficial sipper of sunny days. It seems like it's always the right choice, whether you're at the lake, picnicking at a concert, barbecuing on the patio, serving Sunday brunch, soaking in the sun, or taking it easy and breezy with a good book.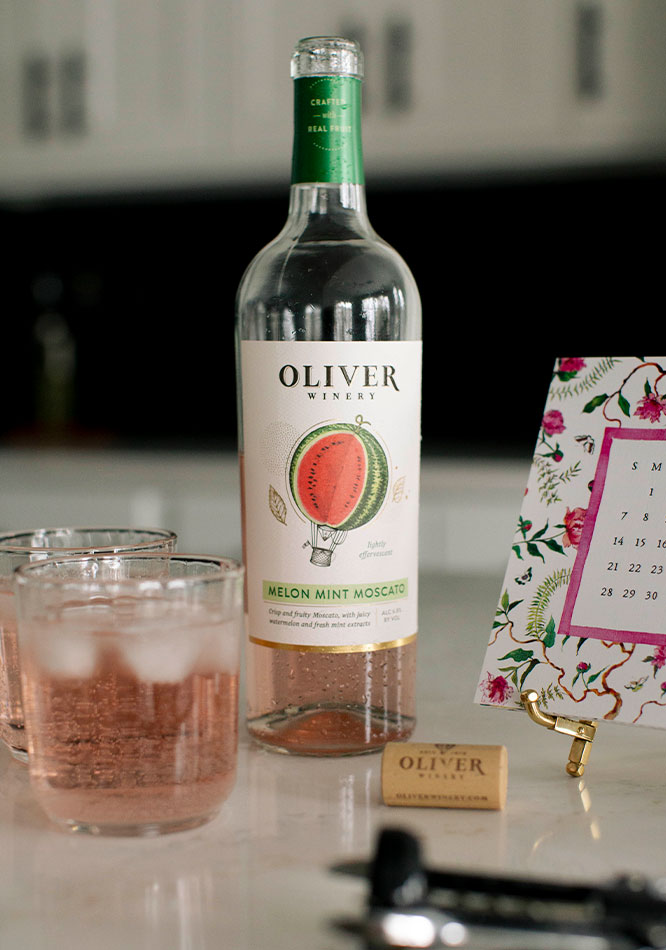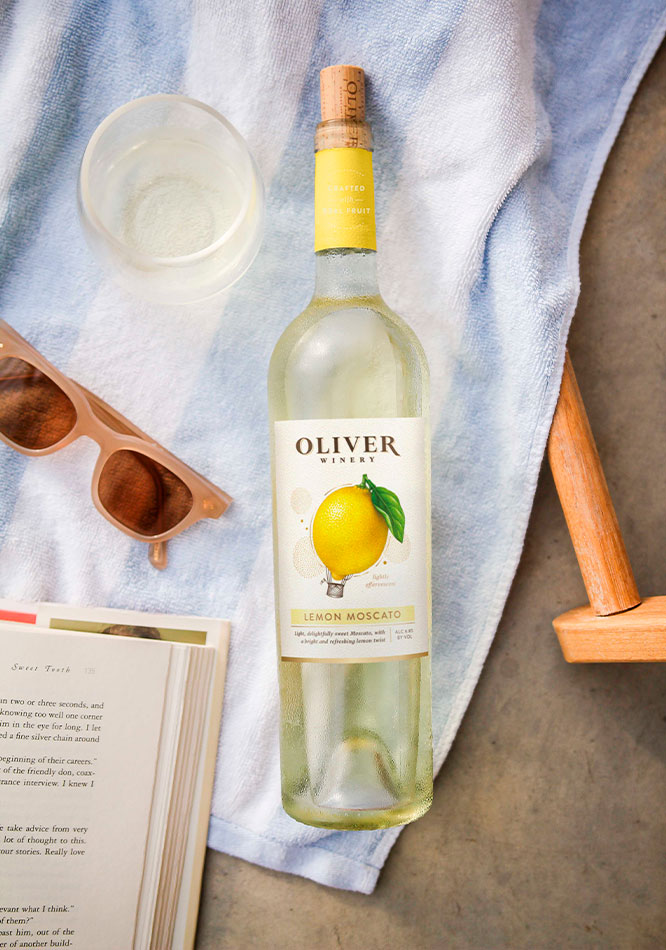 3. It also has a serious history.
Here's some trivia—Moscato is made from the world's oldest grape. It's called the Muscat (or "Moscato" in Italian), and some evidence suggests it was around in ancient Egyptian times. Cleopatra might have been a Moscato fan! Today, there are more than 200 varieties of the Muscat family of grapes in a broad spectrum of colors. Nevertheless, it's considered a white wine.
Most Muscat grapes grow in Italy—Moscato d'Asti, one of the most well-known variations, has earned Italy's highest wine classification. But Muscat grapes are also produced in other parts of the world with climates similar to the Mediterranean. Bottom line: don't let Moscato's pop-culture status fool you—it's a respected and pedigreed wine.
4. Moscato is a guilt-free pleasure.
We love a guilty pleasure, but if you can lose the guilt and keep the indulgence, even better. Moscato fits the bill because it has low-ABV content and is even low calorie. It won't weigh you down—or knock you over. It's the perfect sidekick for socializing with friends or enjoying at home when it's time to relax.
5. It hits our sweet spot.
Moscatos are known for their tropical aromas and rate among the most grape-y of wines. By dialing in the fermentation with precision, we bring the grape's flavors forward in their most natural expression. If you are a budding Moscato connoisseur, we offer an impeccable example of its truest character that might surprise you if your only impression of Moscato is the pink fizzy party drink that was a craze decades ago.
At Oliver, sweet wines are a passion of ours going back 50 years. Most Moscatos are slightly sweet thanks to the low acidity of the Muscat grape, but there's a lot of room for variation in the hands of the winemaker. We are inspired by showing Moscato-lovers the full potential of this fun, fruit-forward wine when it's made by the sweet-wine experts (that's us).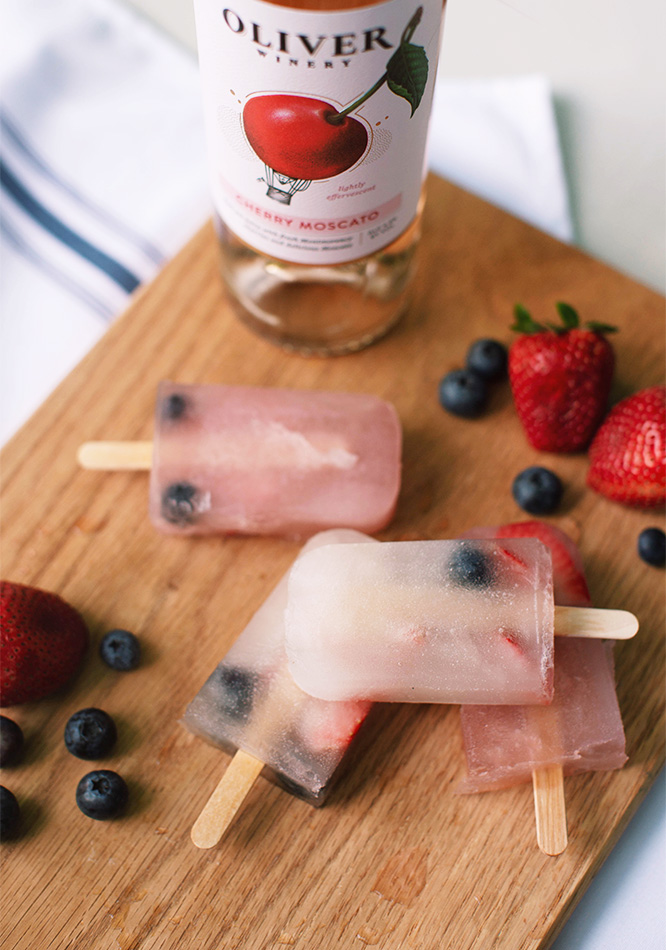 6. Moscato can be fruity.
Not all Moscatos are the same. With over 200 varieties of Muscat grapes to work with, winemakers can achieve a range of flavor profiles depending on the grape's characteristics. Some approaches work and some don't—each type of grape is different.
We took Moscato to a new place by creating Cherry, Blueberry, and Lemon versions, made with real fruit juice and extract, nothing artificial and no high-fructose corn syrup. Sometimes such twists can seem gimmicky, but these Vine Series Real Fruit Moscatos are made with integrity, starting with a blend of the highest-quality West Coast Muscat grapes—Muscat Canelli and Muscat Alexander, which are well-balanced and aromatically intense products that best suit the infusion of real fruit. We ferment them at a low temperature to retain all the fruity and floral characteristics. You can taste the nuances of the fruit that only come from nature itself. They taste pure and fresh. Each sip of our Moscato reminds you that there is no replacement for the real thing.
Our Vine Series Real Fruit Moscatos are the original fruit Moscatos on the market, crafted with the utmost respect for the ingredients and the least amount of intervention in order to let the natural flavors shine. Our winemakers have decades of experience with sweet wines, and they know what to do—and just as important, what not to do—in order to let the fruit shine on its own.
7. Moscato makes a perfect cocktail mixer.
The wine's lightness and tropical character can ease into happy hour territory. Think sangria to complement Moscato's natural fruitiness with chunks of fresh produce, or a Moscato Mule zinged up with our Cherry Moscato as a base for that classic lime and ginger-y kick. Moscato's subtle sweetness makes it a match for a twist on many favorites or a creative spin of your own.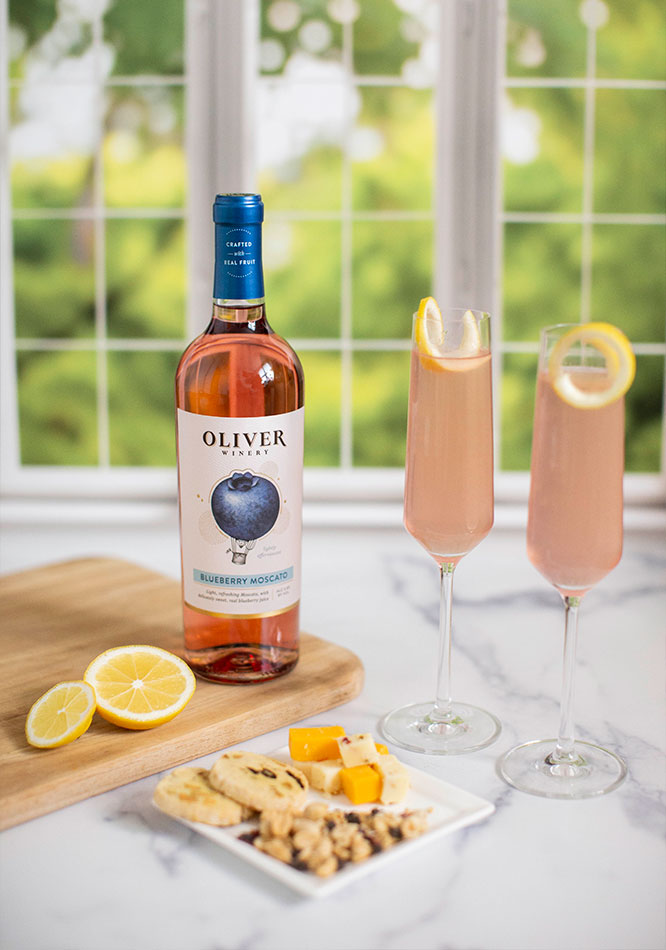 8. It's bubbly!
You might not associate Moscato with celebration staples like champagne, but surprise—some Moscatos are a bubbly wine with effervescence that makes it fun and refreshing to drink. Our Moscatos come by their little touch of spritz honestly. It's a result of our winemaking process that enhances the grape's natural winsome traits. If you're looking for a sparkling white wine, think of Moscato as a down-to-earth champagne for toasting life's simplest and sweetest moments, which is absolutely something you should do.
9. Moscato pairs with fresh foods.
In general, white wines pair well with bright flavors, creamy cheeses, hard cheeses, cured meats, and mild meats. Moscato, as a sweet white wine, belongs on the al fresco dinner table, and the most complementary dishes include fresh, healthy foods like salads and grilled fish with a mango salsa.
Our Moscato has a delightful sweetness from the bright notes of tropical fruit. You'll notice mango and peach aromas and lychee and papaya flavors. Complement those flavors with classic summer dinners and patio snacks. The peach notes also pair well with smoky and spicy foods, like a kicky barbecue, and smoked gouda cheese
10. It's a bargain.
Most Moscatos are wallet-friendly affordable luxuries. Oliver Moscatos cost just $12 per bottle—for the highest-quality, award-winning wines. At this pretty price, you can keep several bottles on hand for spontaneous gatherings or all for yourself. Unopened, a bottle can last for several months in the refrigerator; once opened, it stays fresh for a few days. We don't sacrifice quality to bring you an affordable delicious wine, either. Our Moscato won gold at the 2018 Indy International Wine Competition. All of our Vine Series Real Fruit Moscatos also ring in a dozen bucks.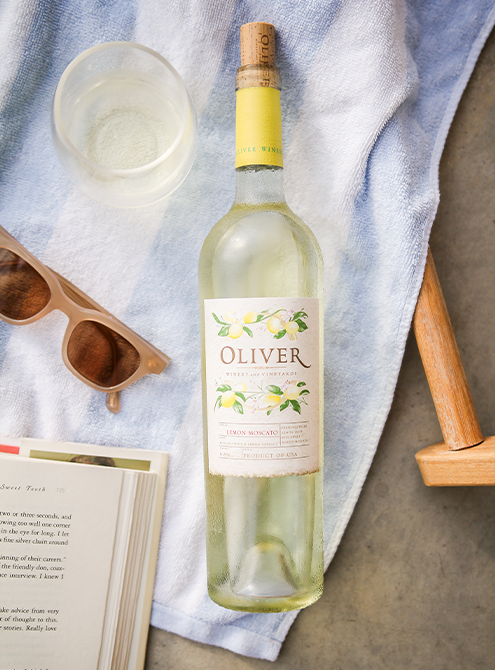 A simple yet indulgent lemon cocktail that is easy-to-drink and great to share. This Lemon Spritz was created by Ashley Rose @sugarandcloth and captures the essence of our true fruit taste.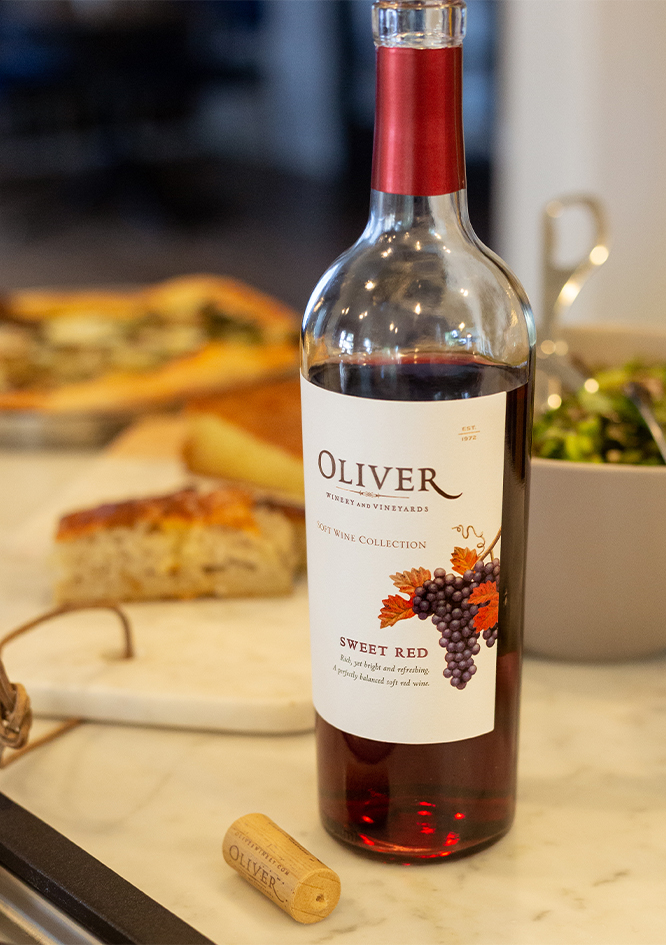 Oliver Winery's signature wine consistently ranks as one of the Top 5 best-selling sweet reds in the country. The refreshingly real Concord grape flavor comes from our inspiration to make the highest quality of approachable, fruit-forward wines. Here are 10+ reasons Oliver's Sweet Red tastes so good.