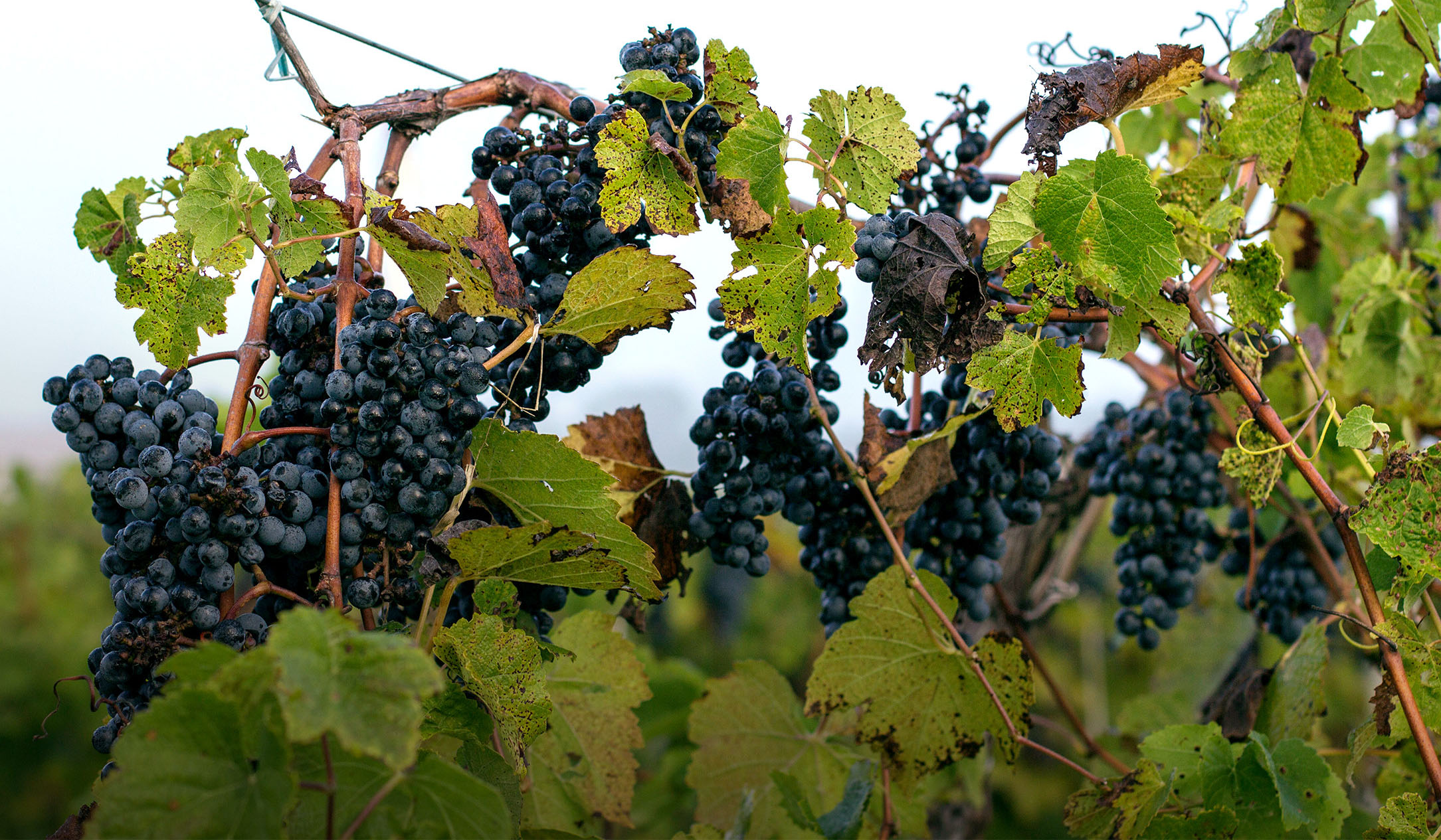 "Locally crafted" means a lot to us. The "grown in Indiana" distinction is reserved only for those grapes that can withstand our wet summers and frigid winters and still deliver a rich, exceptional flavor. Our award-winning Creekbend Crimson Cabernet is a beautiful dry red wine. This estate-bottled varietal wine is made with a rare, hardy variety that showcases the integrity of viticulture and the promise of our land in producing world-class wines.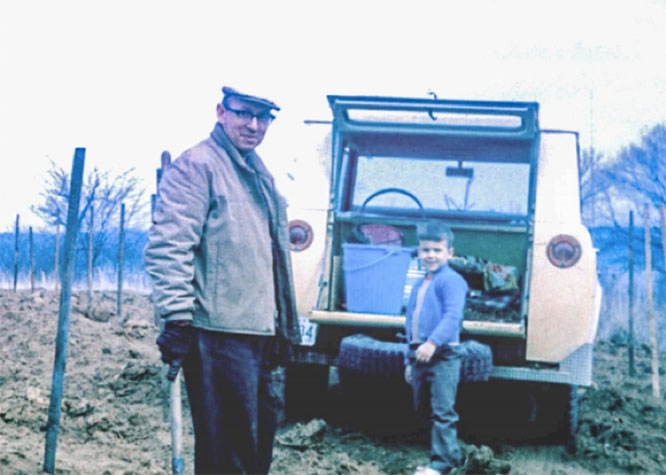 Professor William Oliver and young son, Bill Oliver at Creekbend Vineyard
Great wine comes from great fruit, which comes from great land.
We've been cultivating this land for 60 years. Professor William Oliver began Creekbend Vineyard, the site of our Indiana vines, in the 1960s. From modest roots grew the unexpected hybrid haven of 54 acres of rolling vines Creekbend is today. In 2013, the Indiana Uplands region was finally recognized as an American Vinicultural Area (AVA) for our area's unique climate, topography, and limestone bedrock. These characteristics of our land and soil form a one-of-a-kind place for particular grapes to flourish. The rolling hills of the Indiana Uplands were always meant to bear exceptional fruit and world-class wines!
"
Most don't expect to see sweeping rows of grape vines peeking out from the rural farms and wooded hills of Southern Indiana, but 'expected' has never been a goal at Oliver.
— Bill Oliver, CEO
Crimson Cabernet is a rare hybrid grape
We won't get too technical here, but you can learn more about the development of this hybrid in the Midwest Wine Press here. What's most surprising for visitors who come into the Oliver Winery Tasting Room to experience our Creekbend varietals is that Crimson Cabernet is different but related to Cabernet Sauvignon. Genetically, Cabernet Sauvignon is a parent grape to Crimson Cabernet. Cabernet Sauvignon best develops its rich berry flavors in dry, mild climates (like central California) and is therefore not best suited for Indiana's environment. Crimson Cabernet's other parent grape is Norton: another red grape that is native to the United States and winter resilient. Crossing these two grapes genetically provides a lush, flavorful grape with the perfect composition to thrive in the Indiana Uplands.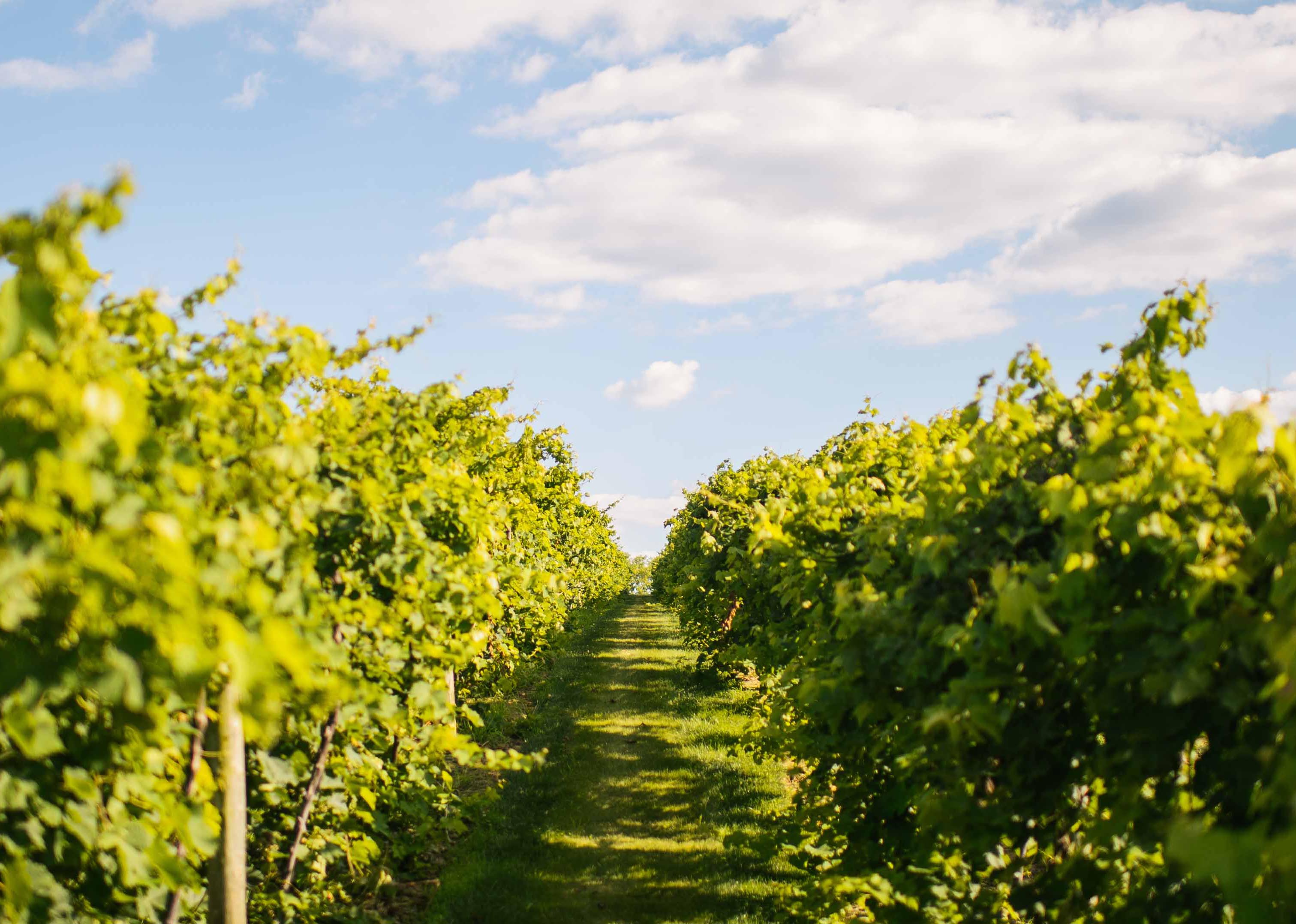 You will love the one-of-a-kind flavor of this dry red Indiana wine.
A long growing season at Creekbend Vineyard provides the much-needed time for Crimson Cabernet to ripen and develop its alluring flavors. Once harvested, our winemakers gently handle the grapes and juice throughout the winemaking process to preserve the authentic fruit character of Crimson Cabernet. After a warm fermentation process, this wine is aged for more than a year in oak barrels to soften the tannins and gently highlight the flavor with oak.
Creekbend Crimson Cabernet has a robust aroma of ripe cherries or even cherry pie! Swirl it in your glass to see the deep ruby color which is intensified by fermenting this wine on the skins. You'll taste rich berry flavors with a hint of vanilla and dark chocolate. This wine has soft tannins and a lingering oak finish.
Dry red wines are often considered a perfect pairing for hearty meals. Crimson Cabernet is more versatile than many other dry reds: its robust berry flavor can accentuate a nice grilled ribeye but would also pair beautifully with lighter dishes. In fact, our favorite meal pairing for Crimson Cabernet is a quintessential Hoosier plate: Indiana pork chops, corn on the cob, and roasted vegetables. Cheers to that!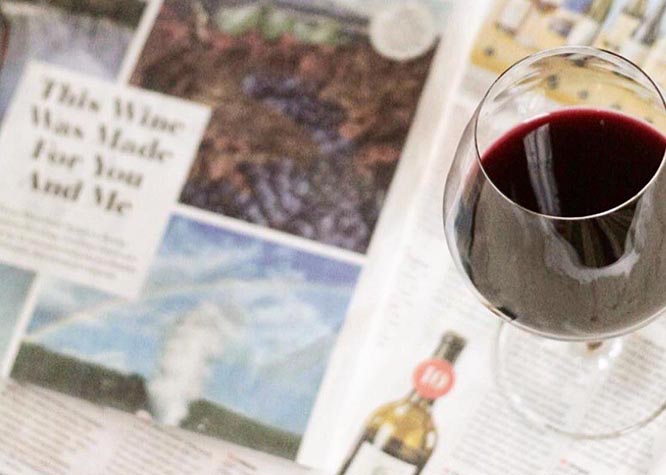 Crimson Cabernet is A Hoosier Red we're proud to share.
Unexpected wines like Crimson Cabernet are at the heart of our growth from a small-town Indiana dream to an internationally regarded winery. Crimson Cabernet won Gold at the 2019 Indy International Wine Competition and Best of Class/Double Gold in 2018. In a 2019 feature article, Lettie Teague noted Crimson Cabernet as a "Wine to Buy" in The Wall Street Journal.
It's a joy to craft and share special wines with you, especially when their stories begin with the very ground that raised us. We hope you'll enjoy a bottle of our Creekbend Collection with your closest friends and family.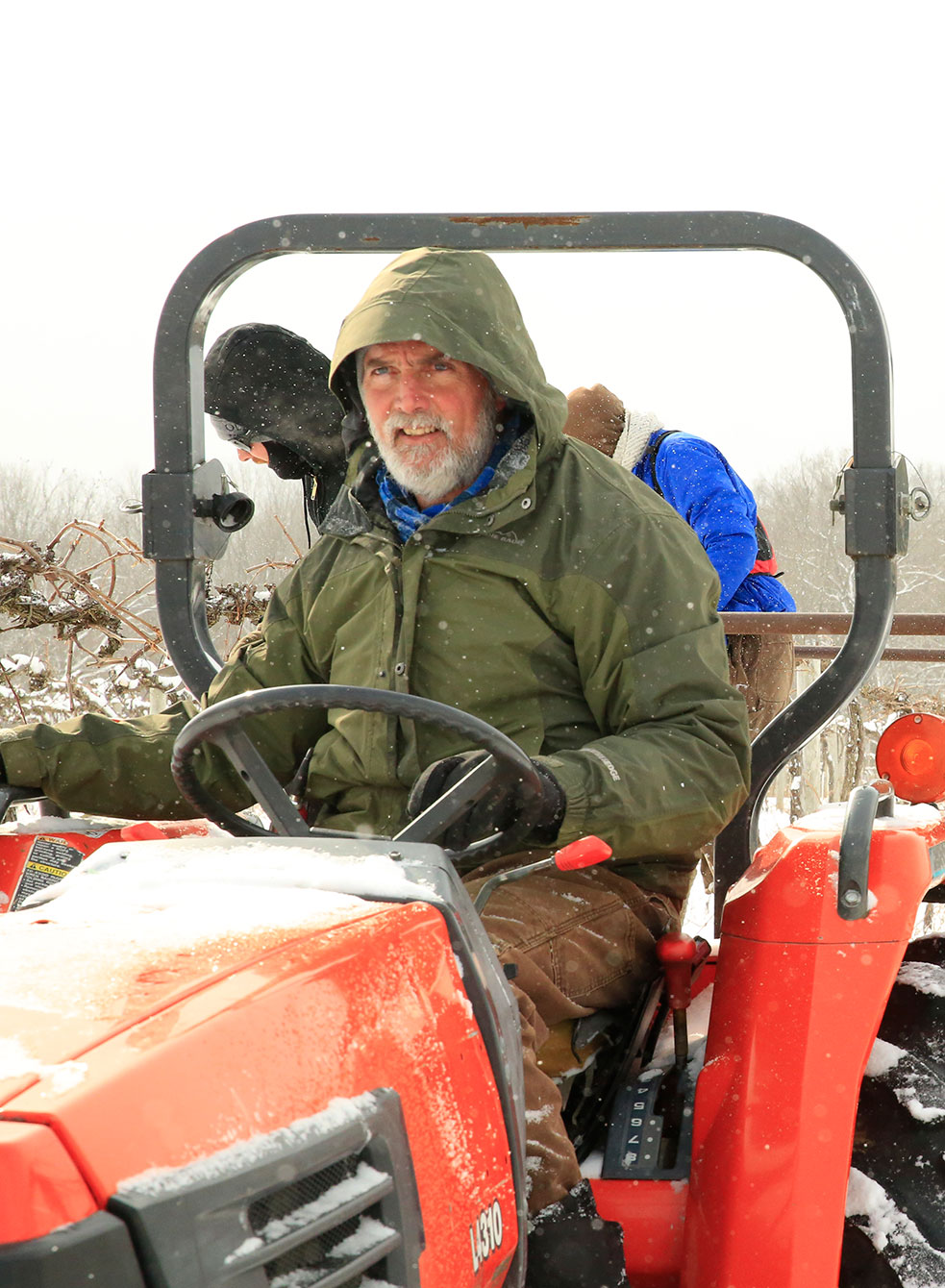 Pruning at Creekbend is a winter-long project. With 54 acres to prune and only three of us in the Indiana vineyard, plus some assistance from the landscaping crew, we have quite enough to keep us busy until March.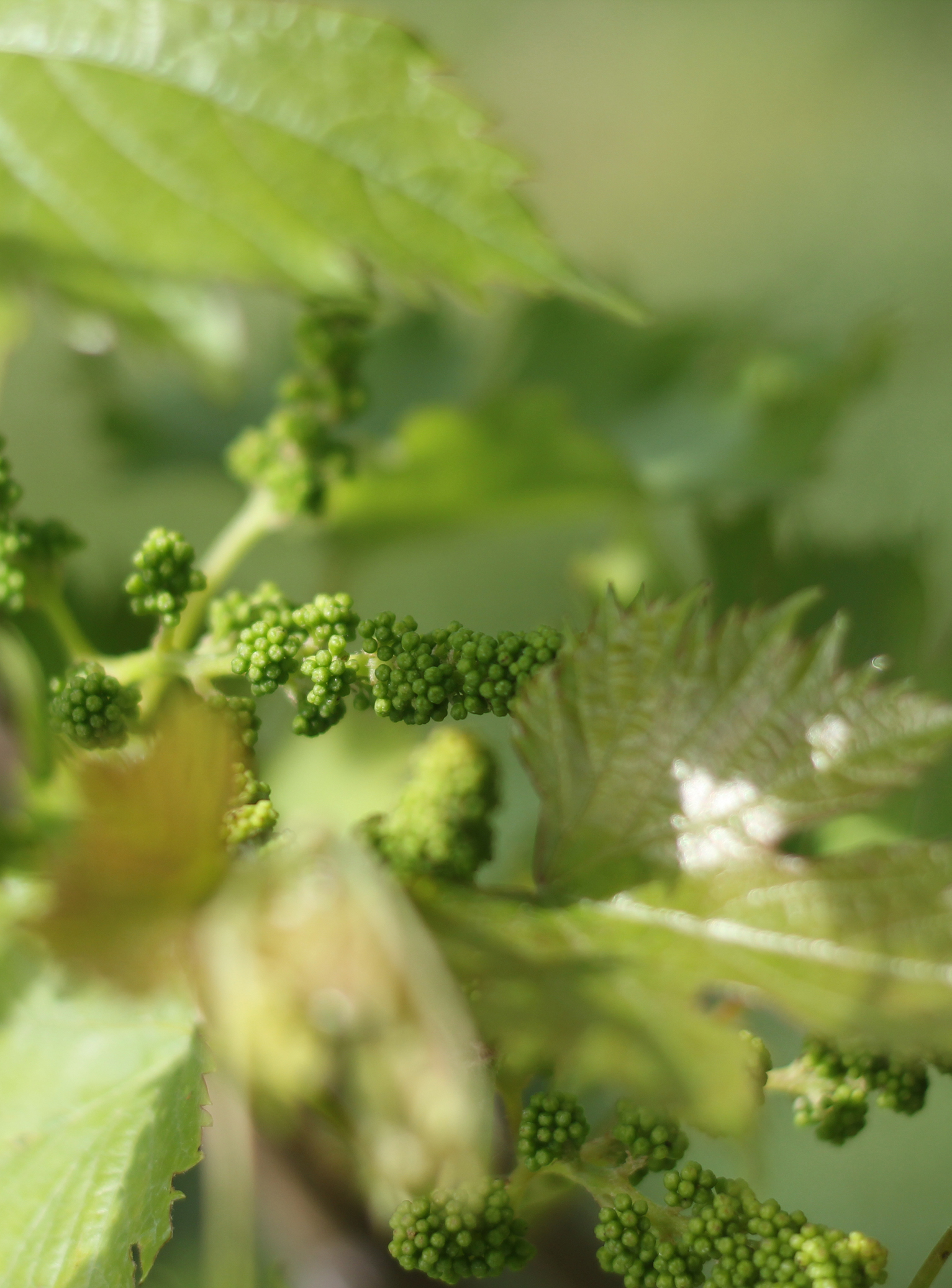 Spring at Oliver Winery is an exciting time deep in Indiana's scenic wine country. Our blooming vines are getting ready to produce clusters of fruit, and right now we are busy setting the stage for the rest of the growing season.