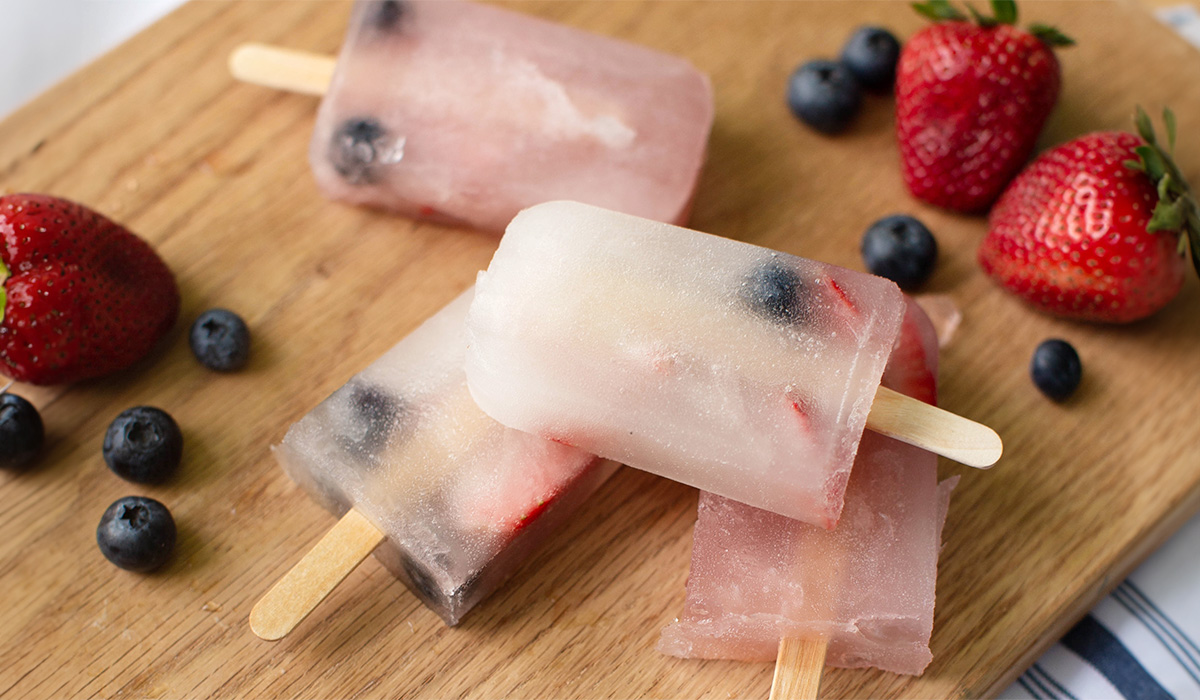 The Fourth of July is right around the corner, along with plenty of backyard BBQs, pool parties, and summer fun. Here at Oliver, we believe that wine brings people together, and we've got a few ideas that will do just that.
If you're looking for a ready-to-drink poolside sipper, pour some Lemon Moscato or Melon Mint Moscato over ice. It'll probably be your go-to relaxing treat for the rest of the summer! If you're looking for a casual drink while you grill, pour a glass of chilled Sweet Red (and a second while you enjoy your burgers, too!). If you wanna take it up a notch, we left a few of our favorite summer recipes below.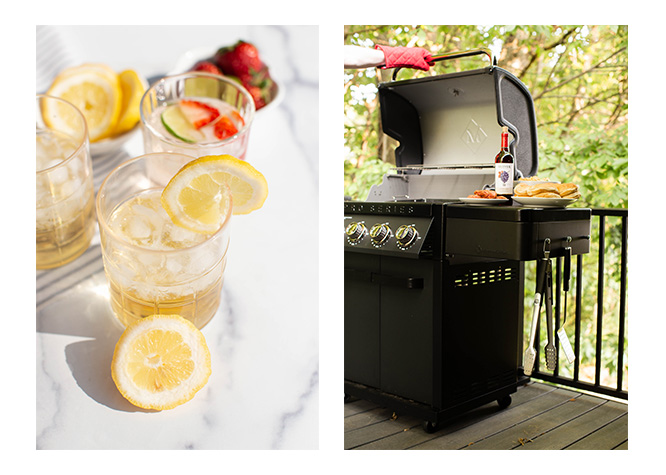 REFRESHING & FRUITY MOSCATO POPSICLES
It's adults only for these Moscato pops! Simple, light, delicious, and bursting with fresh fruit flavor—they are the perfect treat for scorching summer days or pool parties.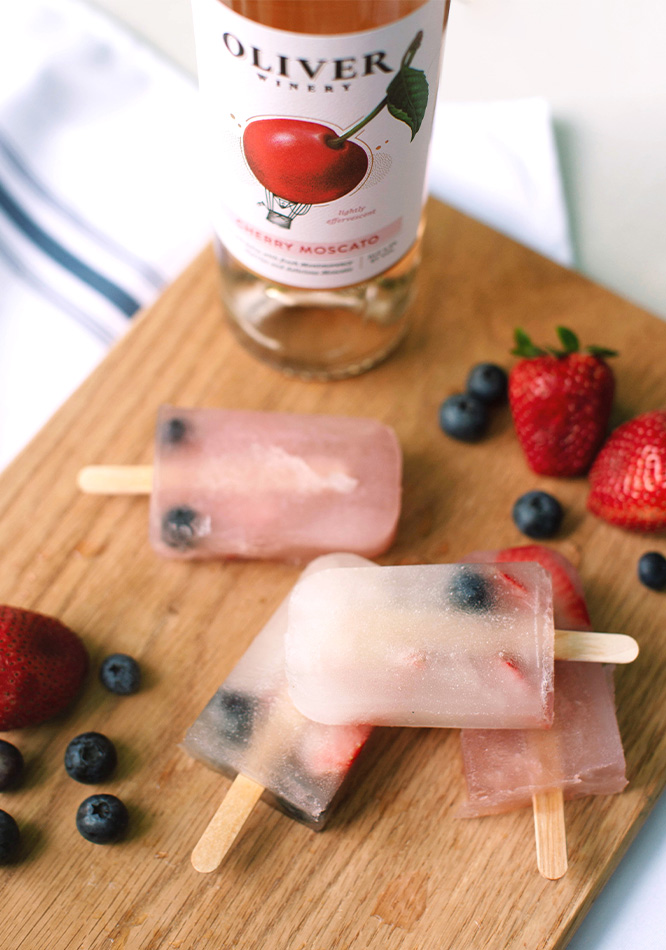 Moscato Pops
1 bottle of Oliver Real Fruit Moscato (any flavor)
1 cup fresh fruit, sliced if needed
2 cups lemonade
Popsicle mold
Choose your Moscato flavor and fresh fruit. We did a split between Cherry Moscato + Lemon Moscato, then added strawberry slices and whole blueberries. Add a few fruit pieces to each mold. Fill 3/4 of the way full with Moscato. Top off with lemonade, but be sure to leave a little free space at the top of the mold! Cover and add your popsicle sticks. Freeze for at least 5 hours. Enjoy!
Blueberry Spritz
A classic, simple cocktail that feels festive, light, and easy to whip up. Enjoy on the water or with friends while the sun goes down.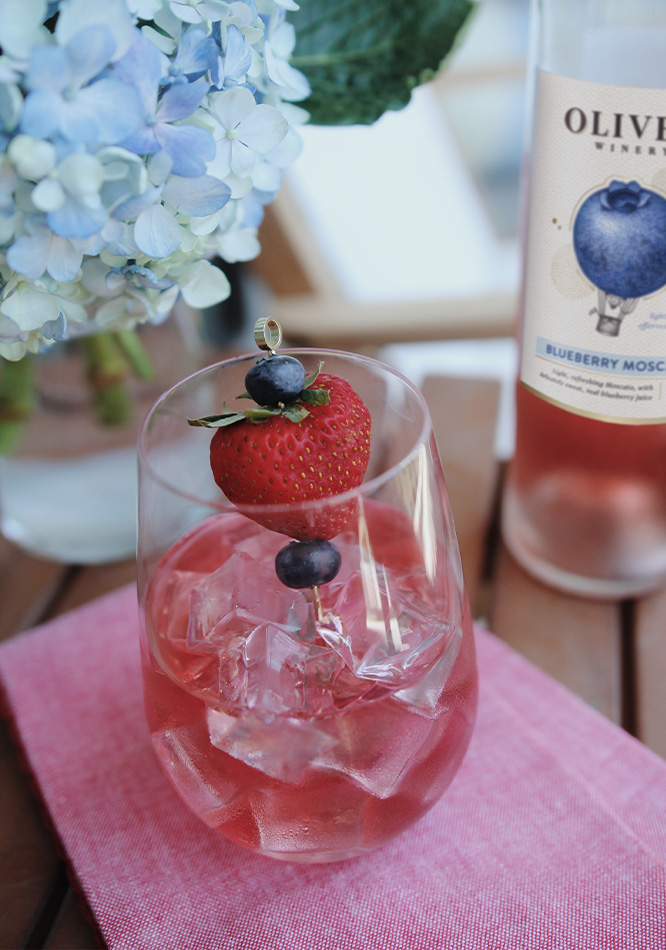 Blueberry Spritz
4 oz Oliver Blueberry Moscato
1/2 oz grenadine
2 oz tonic or effervescence of choice
Fresh berries
Ice
Pour Blueberry Moscato, grenadine and tonic over ice. Garnish with fresh strawberries and blueberries on a cocktail pick. Enjoy!
MELON MINT FROSÉ
Another nostalgic classic, upgraded with refreshingly fruity wine. It's a great afternoon treat to sip between dips in the pool or to enjoy in the shade when the sun hits its peak.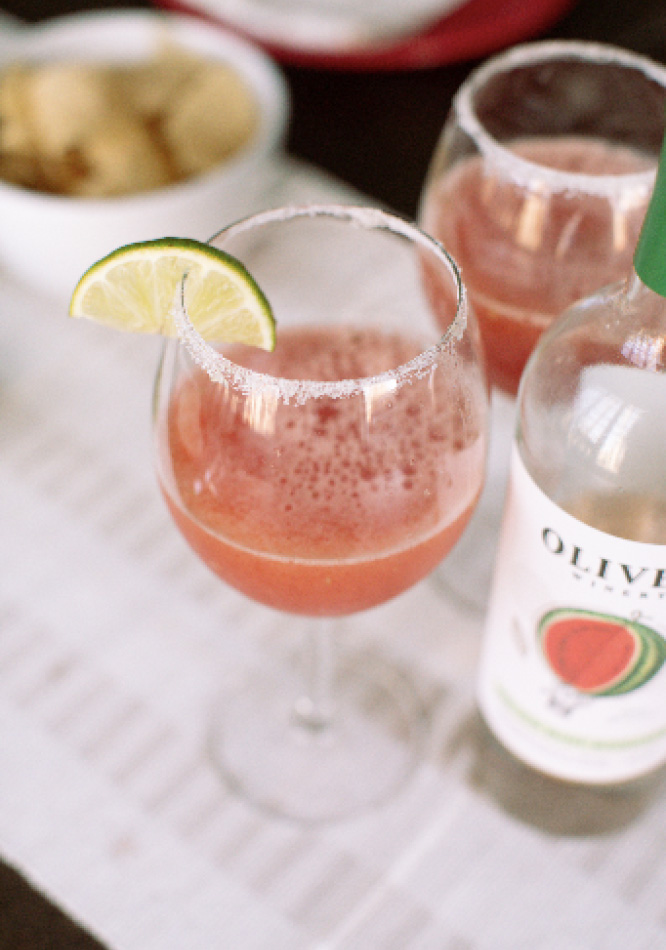 Melon Mint Frosé
1 bottle Oliver Melon Mint Moscato
3-4 cups of watermelon, cubed
2 tbsp Lime Juice
2 tbsp Honey
Lime for garnish
Freeze Melon Mint Moscato cubes at least 4 hours ahead of time. When ready, blend watermelon, lime juice, and honey. Strain. Blend juice with Melon Mint ice cubes. Sugar rim of glass. Pour and garnish with lime.
SANGRIA
Easy, ready-to-share, and delicious. Sweet Red Sangria is perfect for gatherings on balmy summer evenings. Serve with snacks, appetizers, or BBQ to complete casual backyard gatherings.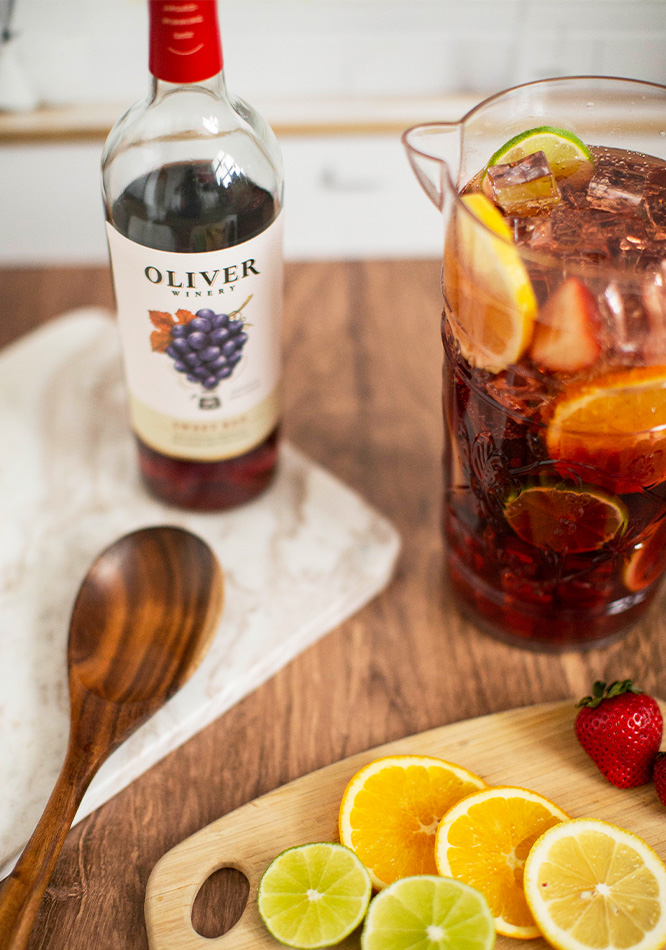 Sweet Red Sangria
2 bottles Oliver Sweet Red
1 c brandy
1 c orange juice
2 sliced oranges, lemons, limes, and apples
2 c club soda, chilled
In a large pitcher, combine wine, brandy, and orange juice. Add orange, lemon, lime, and apple slices. Refrigerate until well-chilled. Remove and add club soda. Serve in glasses over ice, and enjoy!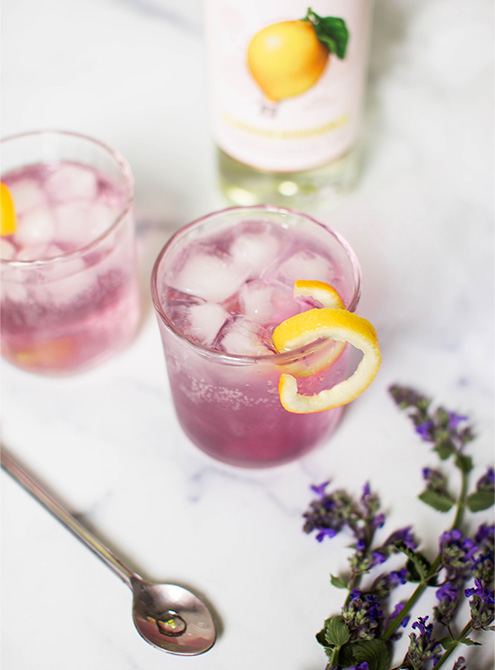 Catch us in our Lemon Moscato era! Delicious, subtle, and refreshing lavender and lemon shine in this sweet sipper. With a fun lavender hue, it's sure to make a splash at the pool or at brunch, while calming lavender makes it ideal for a lazy afternoon in the hammock or al fresco dinner too.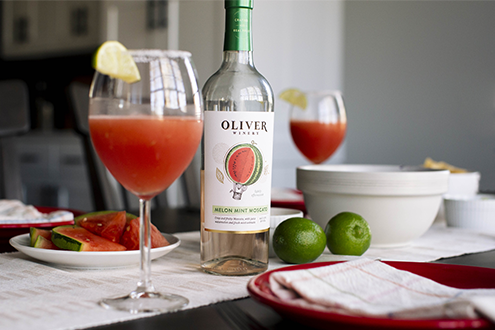 Inspired by the classic mojito, our new Melon Mint Moscato is bursting with ripe melon, and hints of lime, mint, and cucumber. It's a ready-to-drink-cocktail in a bottle. We love this light, fruity wine over ice, but in case you like to experiment, we've got some recipes that we'd give two "bottoms up." See what we did there?