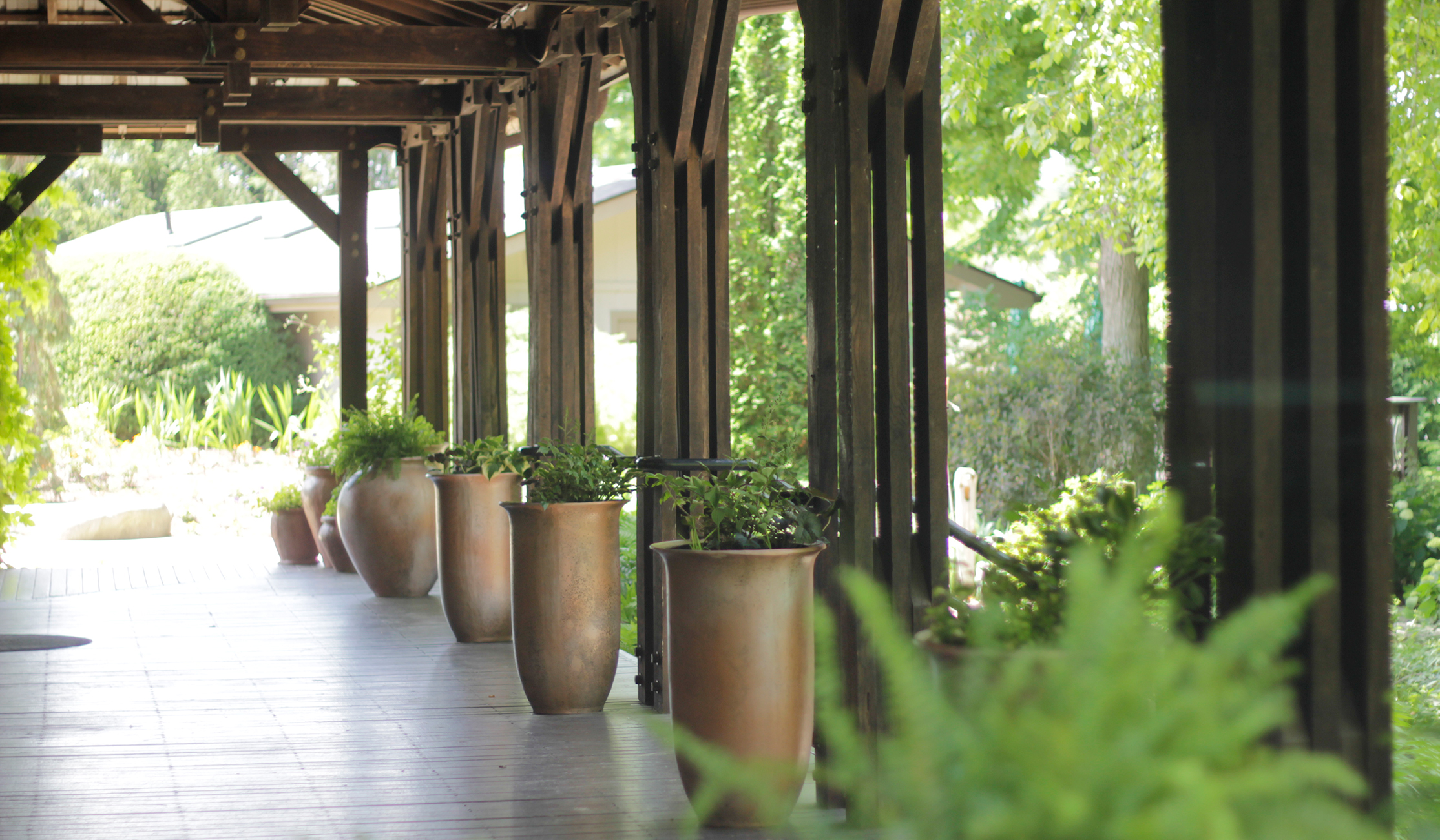 UPDATED MONDAY, AUGUST 17, 2020.
We've made some changes to our traditional experiences, and we will not be conducting guided wine tastings at our bars when we reopen.
Our number one priority is the safety of our guests and employees. In the current phase of Indiana's "Back on Track" plan, this is what you can expect.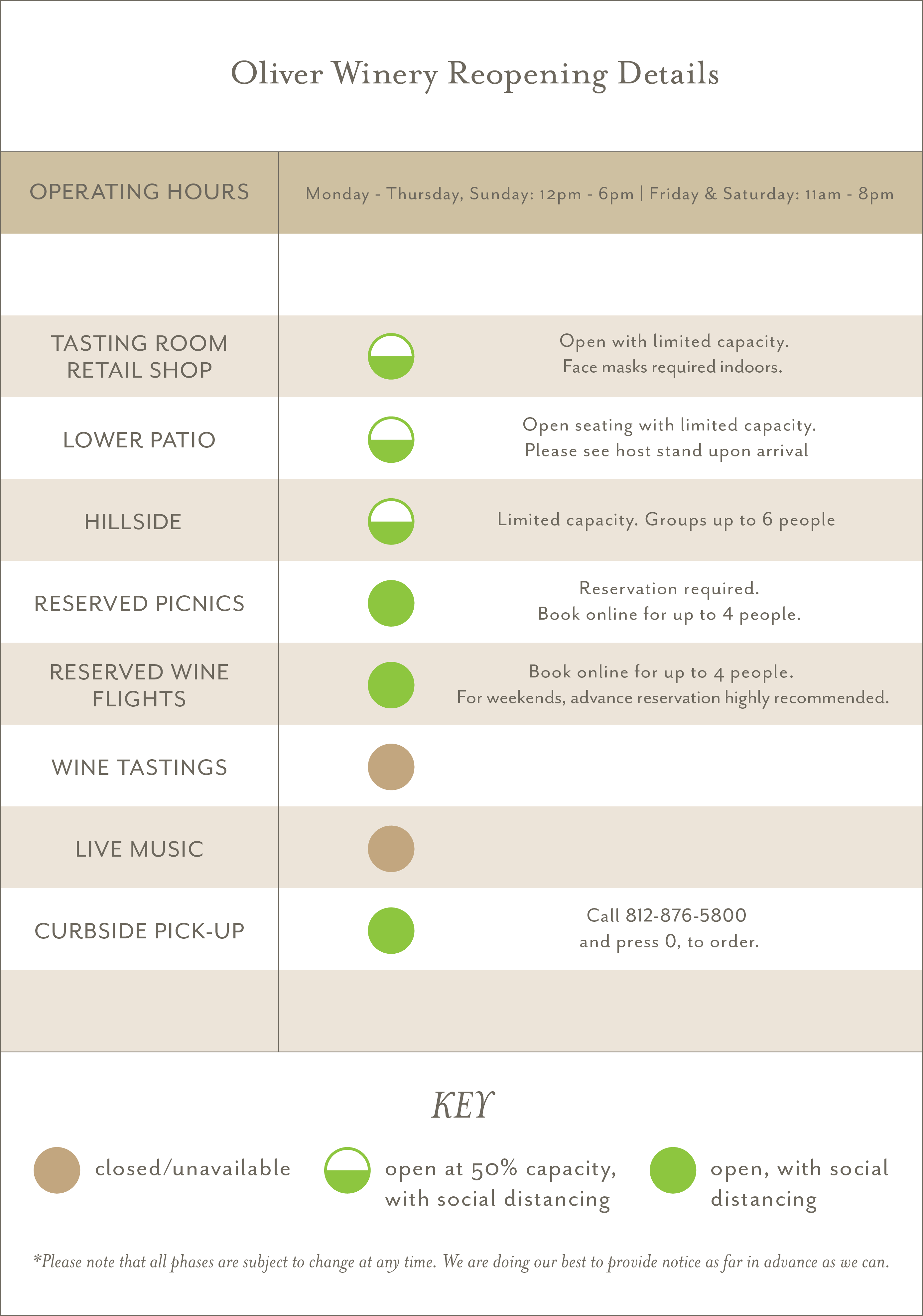 Here's what you need to know:
In the current stage of Indiana's "Back on Track" plan, this is what you can expect.
LIMITED CAPACITY | Per Monroe County and state guidelines, gathering sizes are limited to allow for proper social distancing. All seated/patio experiences will be limited to parties of up to 4. On our hillside open seating grounds, groups up to 6 will be permitted. Please plan ahead and bring patience, just in case.

NO OUTSIDE FOOD OR DRINK | At this time, we're trying to minimize what is brought onto our grounds, and we greatly appreciate your understanding! We'll have an assortment of meats, cheeses, and other snacks as well as non-alcoholic beverages available for purchase on-site. You can also reserve a pre-packed picnic »

CREDIT CARD ONLY | To keep our transactions as contact-free as possible, we're suspending cash payments. Please plan to pay with credit or debit card when you visit us to shop.

NEW! RESERVED WINE FLIGHTS | While we can't offer our highly-rated individual tastings, we're excited to introduce a new reserved wine flight experience. There will be limited walk-in availability for these flights, and bookings will be available up to two weeks in advance. Reserve your flight now »

NO PETS, FOR NOW | While we make space for each other, we ask that you leave your furry friends at home. Don't worry, this rule won't last forever. We can't wait to have them back, too!

PLAN AHEAD | Answers to frequently asked questions and more can be found here: Plan Your Visit »
TAKING GOOD CARE
We're also taking special steps to keep guests and onsite staff healthy.
We're conducting daily health checks with our employees.

Daily cleaning and sterilization protocols in our common areas are more frequent and even more vigilant than before.

You'll notice our tasting room and experiences are organized a little differently to allow for social distancing.

Hand sanitizer is readily available for guests.

Our employees will be wearing face masks and practicing social distancing for their safety and yours. To keep everyone safe, businesses open, and our community moving forward, our guests are also required to wear a face covering while inside our tasting room. This applies to shopping, restroom visits, etc. You will not be required to wear one while outdoors on the patio or hillside areas.
WHAT'S NEXT?
As we all know too well, things are always subject to change these days. We'll publish a more detailed outline when the next phase approaches. All updates and policy changes can be found in the Latest News section of our blog, as well as Facebook and Instagram.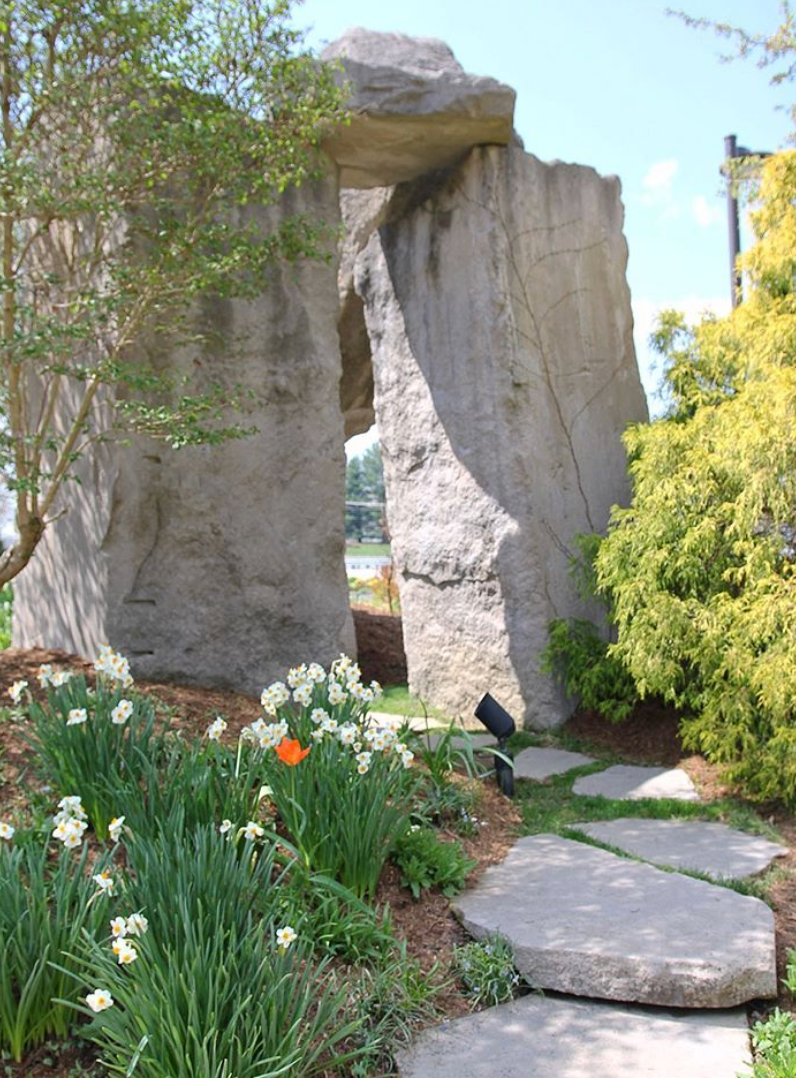 Like the rest of you, we're anxious and eager to get back to normal. But, we know this must come in small steps.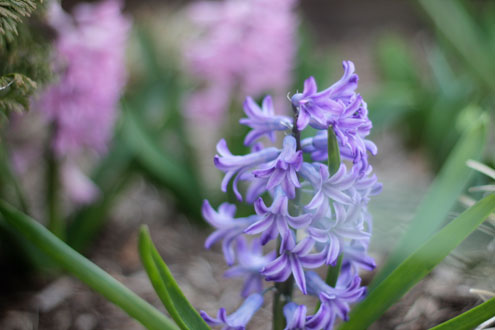 Spring is one of the most beautiful seasons on our winery grounds. Every year, from early April through mid-May we are greeted by thousands of blooms in every color. Even when our grounds are empty of the buzz of happy guests, they are aglow with the newness of the springtime.