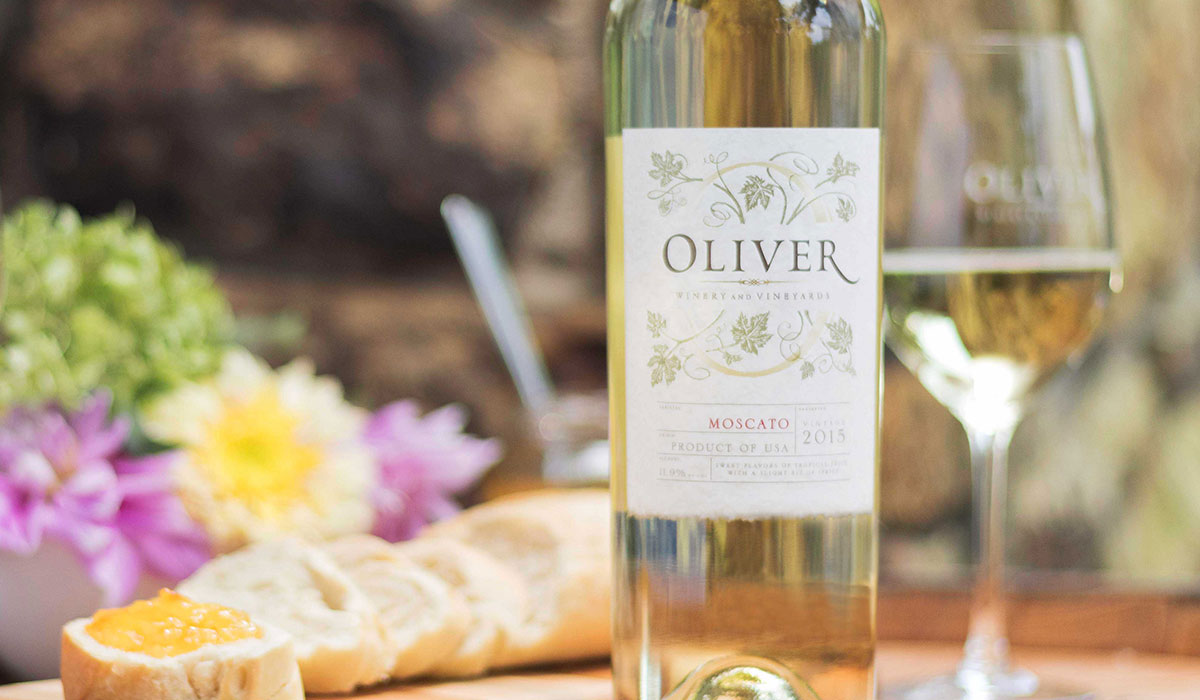 Moscato is defined by the Oxford dictionary as "a sweet Italian dessert wine," but at Oliver Winery, we know that it's much more than just dessert.
Moscato's subtle sweetness and natural bubble make it perfect for every day and for any occasion. It may surprise you to know that this lovely wine is one of the most popular white wines sold in the U.S. Why? Well, we put together a little Q&A.
Look at you, becoming a Moscato expert!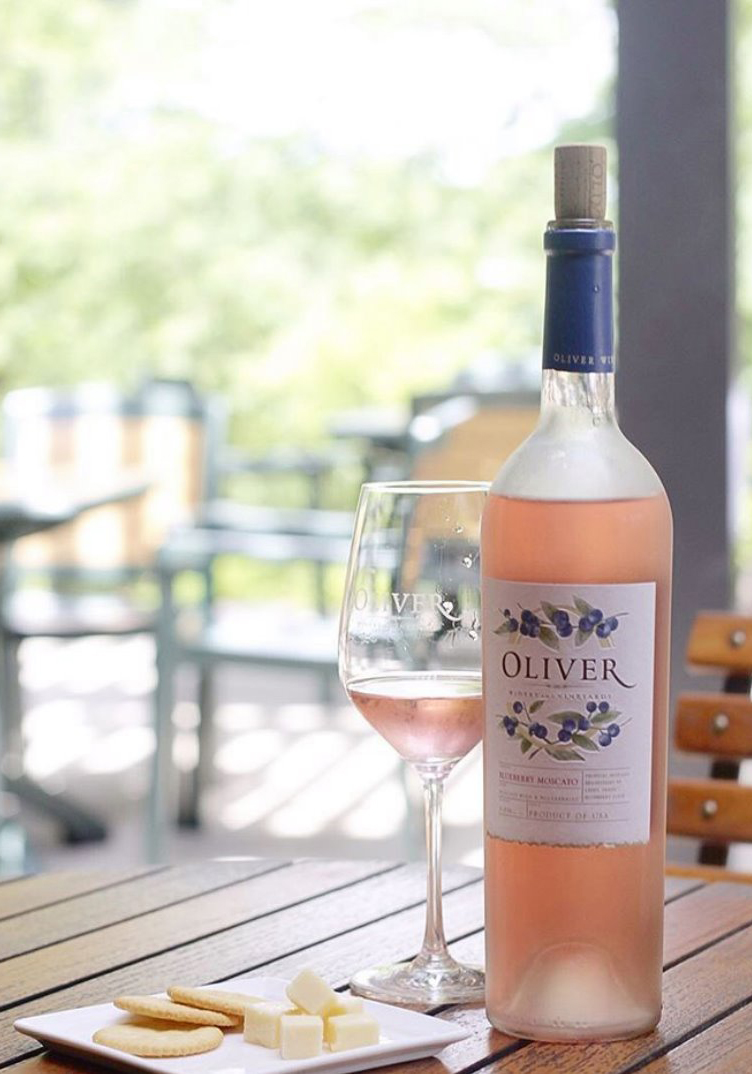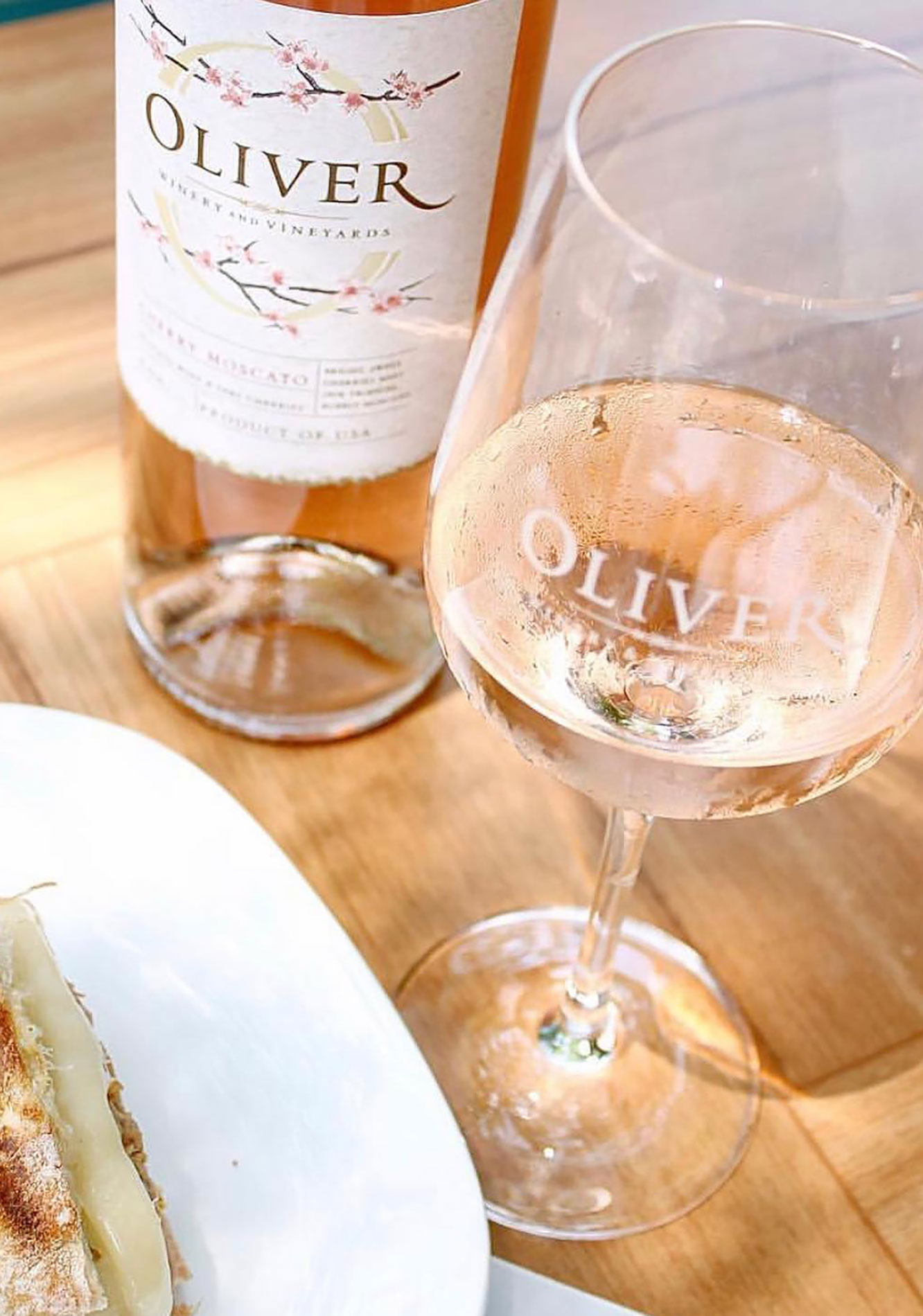 "We keep a bottle chilled to enjoy just about any evening — after the sun is tucked away for the night."
Q: How do you pronounce Moscato?
A: Let's say it together, "moe-ska-toe." Sound it out once more: "moe-ska-toe." Now bring it all together: "Moscato." Now three times fast: "Moscato, Moscato, Moscato." Haha.
Q: What is Moscato?
A: Moscato is the Italian name for the Muscat Blanc grape (one of the oldest wine grapes in the world, btw). The name is also used to describe varieties of this wine grape, such as Muscat Canelli and Muscat Alexander. As a wine, Moscato is best known for being fruity and approachable.
Q: Is Moscato white or red?
A: Moscato is foremost thought of as a white wine; however, the Muscat family of grapes includes more than 200 varieties, ranging from white to yellow, pink, or inky purple. Blending another juice with the crisp white fruit can also create variation in Moscato wine color. For our Blueberry Moscato and Cherry Moscato, for example, the juice of real berries creates their beautiful pink hue naturally.
Q: Where is Moscato grown?
A: The Muscat Blanc grape isn't keen on rigid guidelines, and can grow in almost any climate. Given its choice, the plant prefers the warmth of the Mediterranean, thriving in places such as France, Spain, Italy, Portugal and even regions of Australia. At Oliver, we source incredibly delicious Muscat Canelli and Muscat Alexander from the West Coast, from vineyards in California and Washington. Thirsty for more nerdy knowledge on this varietal? Here's a great resource.
Q: What is the alcohol content of Moscato?
A: Moscato is intended to be light and refreshing, and ranges from 5 to 10 percent ABV (alcohol by volume). Ours range from 10% to 6.6%.
Q: Is Moscato carbonated?
A: Sometimes! Some brands add hefty carbonation to make their Moscato extra sparkly. But, typically, the bubbly nature of this wine comes naturally, as a result of fermentation. That's the case with the Oliver Winery Vine Series Moscato. The lively little sparkle in our Moscato is a product of the winemaking process. For Blueberry and Cherry Moscato, we add a dose of carbonation to create a satisfying fizzy taste.
Q: How should Moscato be served?
A: Best served chilled. In fact, as a rule of thumb, most white wines are best served chilled, and most red wines are best served at room temperature: however, there can be exceptions to the rule. We recommend Moscato extra chilly or even over ice. In fact, we keep a bottle chilled to enjoy just about any evening — after the sun is tucked away for the night.
Q: What foods pair well with Moscato?
A: Have I sipped Moscato while enjoying a brownie? Yes. Have I also sipped it while enjoying Pad Thai? Yes. Moscato doesn't make the rules, you do. Classically speaking, Moscato is a great companion to a sweet treat or spicy fare. We think Moscato best accompanies fare on opposite sides of the spectrum. Think, sweet dessert or spicy Asian cuisine. That said, the light nature of our Cherry and Blueberry Moscatos make them great pairings for pretty much any cuisine. Think of them like you might a wine spritzer or hard seltzer.
Q: Where can I buy Oliver Moscato online or in stores?
A: Why, we're so happy you asked! Oliver Vine Series Moscatos are distributed and sold in 38 states. So, we just might be at a store nearby. Find a store near you.
We also ship your favorite wines to more than 30 states via our online shop. Each state has its own regulations and direct shipping laws that change regularly. Get details.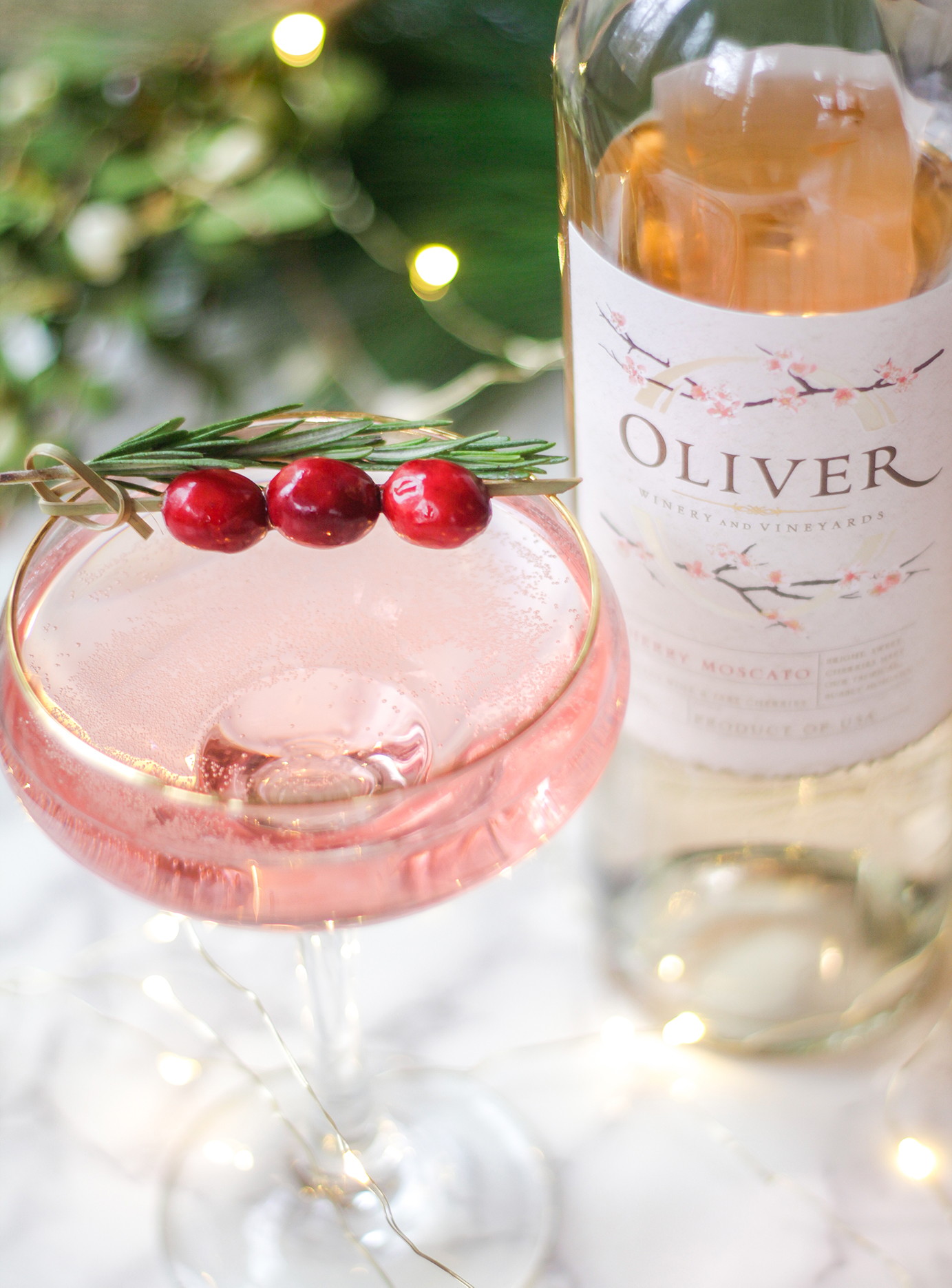 Good tidings and holiday cheer(s) come easy when you have a festive Cherry Moscato cocktail in hand. This crowd favorite is simple to serve and even better to sip.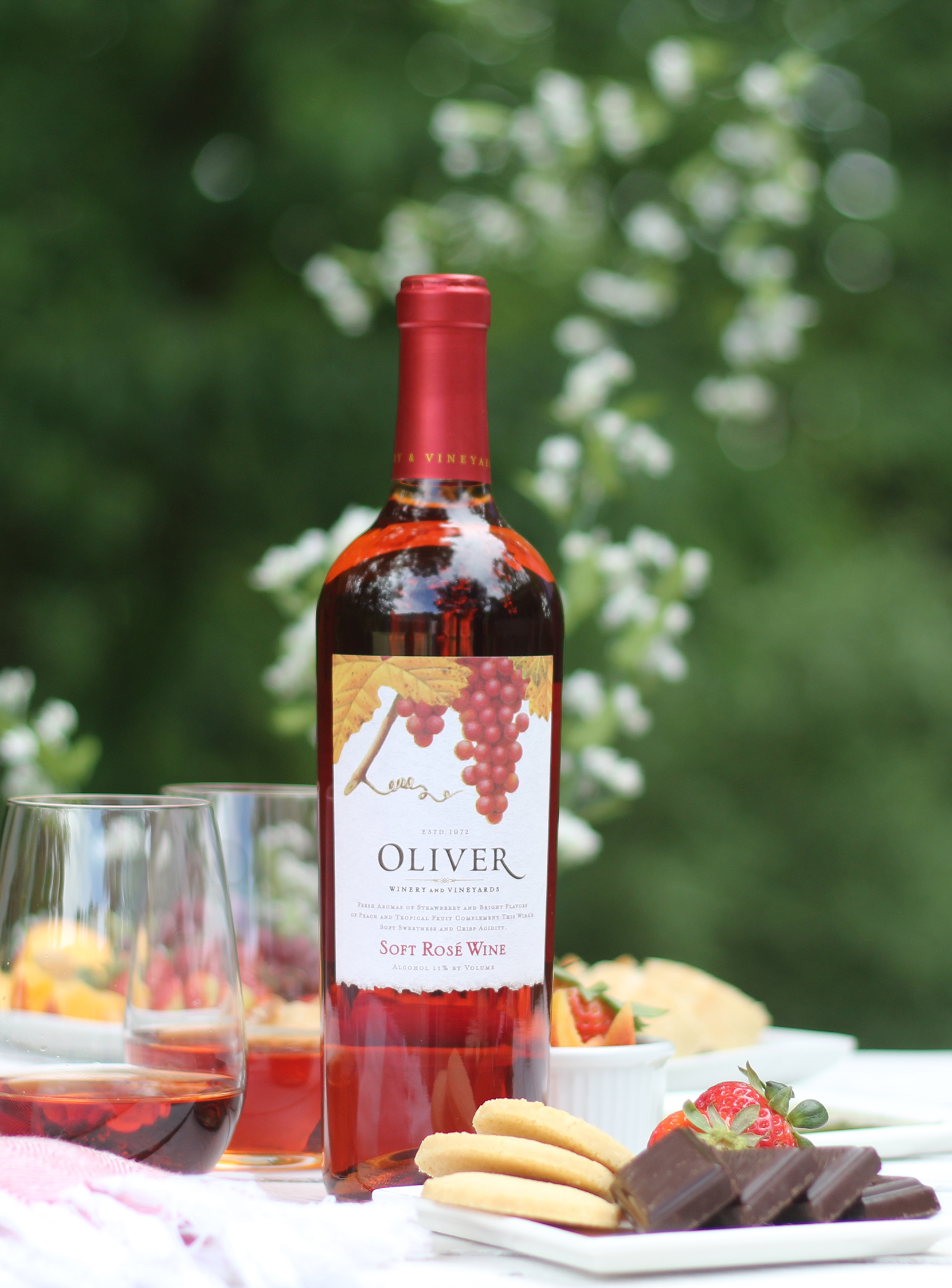 Sweet wine is the core of Oliver Winery, and our Soft Wine Collection is the essence of our summers. The luscious smell of Concord grapes permeates the air throughout the winery. We know that when beads of condensation gather around a bottle of Soft Red, it's the sign of a good time to come.