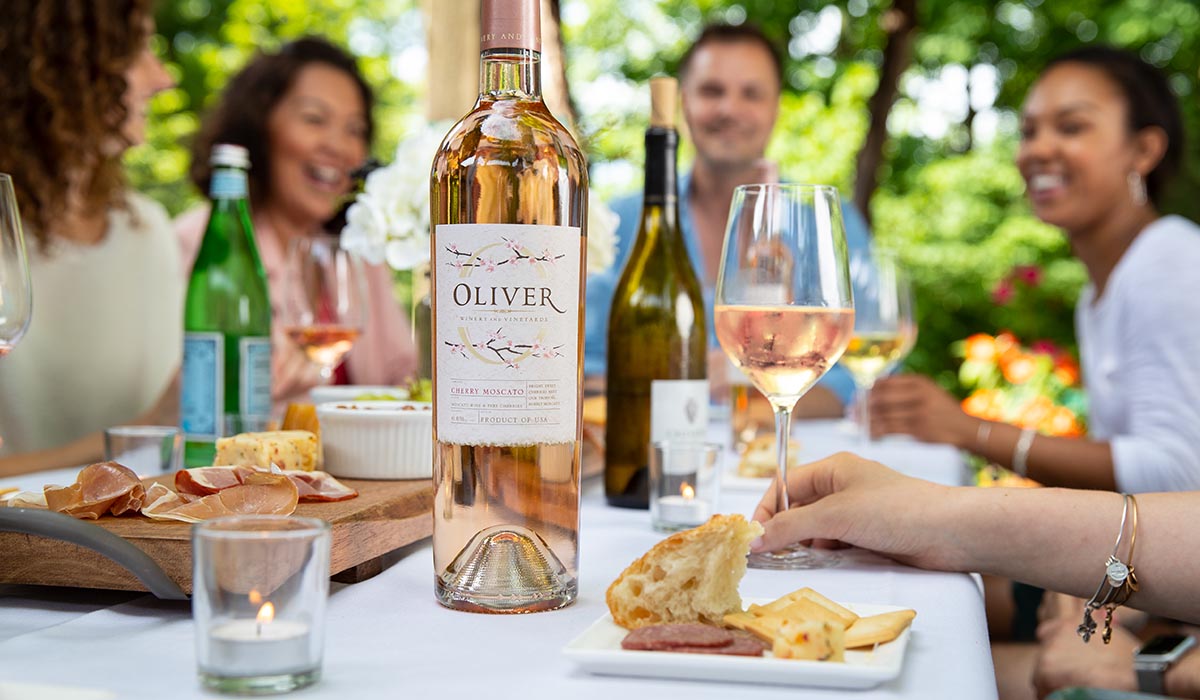 Whether you're planning a girl's night in, snuggling up for a movie with your S.O., or hosting family for a special occasion, a cheese board is the perfect way to add the "dine" to your "wine-and-dine."
The best news is: making your own cheese board doesn't have to be a hassle. With this guide, we'll help you keep it simple and delicious.
Below you'll find some tips, tricks, and inspiration to whip a perfect cheese board in your very own kitchen.
What you'll need
A board or plate of any type. Cutting boards work really well!
A knife and/or cheese spade. Anything that will help cut, poke,spread (and share).
A spoon or two.
Two to three cheeses. Much more on this later.
Your favorite cured meat.
Fruit.
Something salty.
Something crunchy.
One type of jam and one type of mustard.
Chocolate.
Carbs.
Wine. This is a wine lover's guide, after all!
You already have most of that in your kitchen now, right!? It just looks so special when you put it all together and pair it with your favorite wine!
Next, how to choose your items…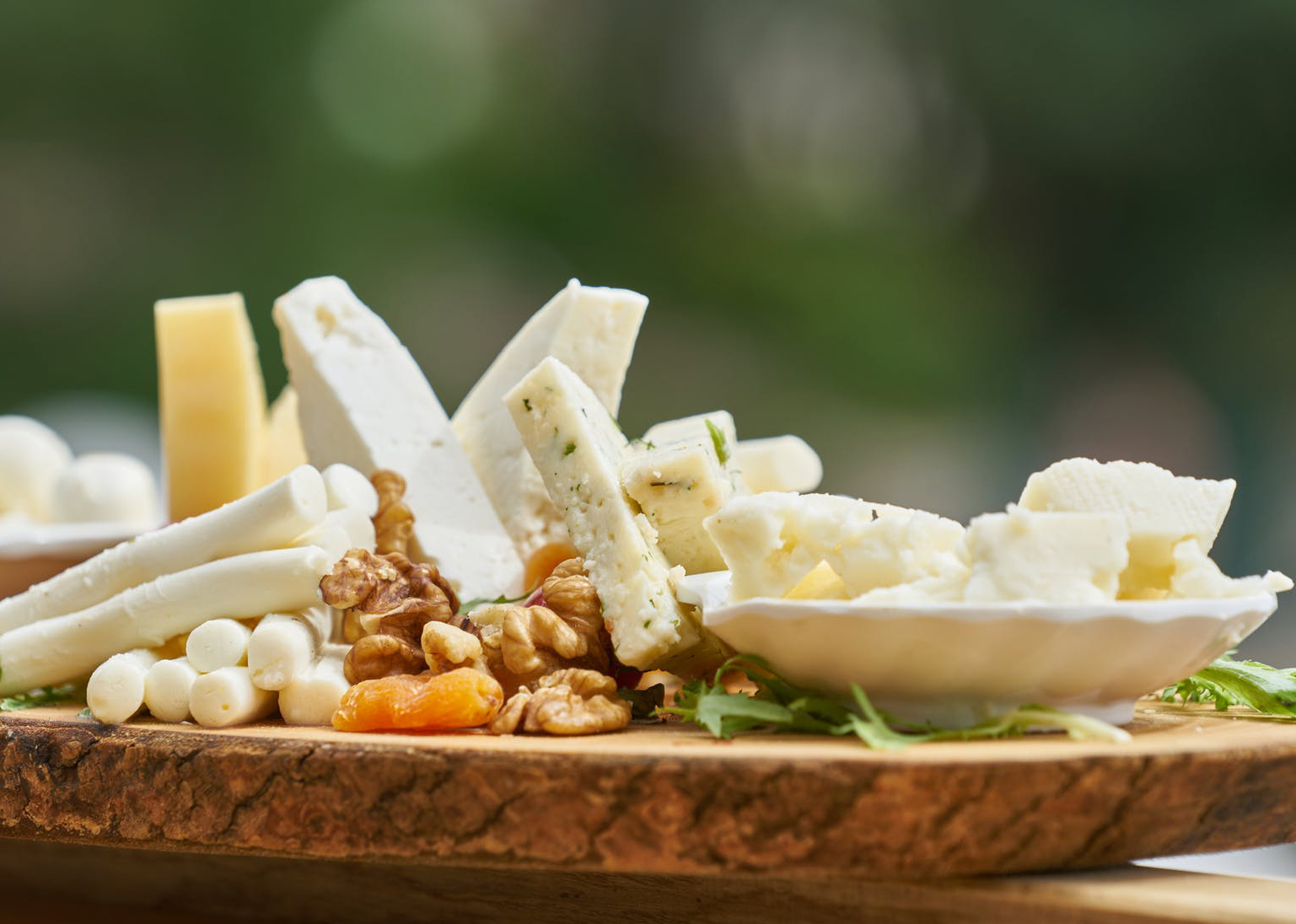 How to choose your items
Cheese:
Even though so many other tasty treats are coming to the party, the cheese is the star! A general rule of thumb is that salty and hard cheeses pair with big, bold wines, while mild and creamy cheeses pair with light, sweet wines. For example, if your favorite wine is Cabernet Sauvignon, you might start with an aged cheddar. It has a nice bite and will balance the bold fruit character of such a powerful red wine. If your favorite wine is Blueberry Moscato, start with a young gouda which has a delicate sweetness of its own.
The most important wine lover's rule is this: if you like it, it's a good pairing. This might seem obvious, but we mean it! It's your cheese board after all. So, even if your pairings don't follow some fancy guidelines of what's "right," YOUR approval matters most. Are you loving Blueberry Moscato and aged cheddar together? Sounds perfect for YOU.
If you are looking for pairings with specific styles, we did pull together some recommendations for the best cheese to pair with sweet wines and the best cheese to pair with dry wines.
Meat:
Traditional options for a charcuterie platter are salami, prosciutto, mortadella, and other cured sausages. These meats range in fat and salt content and should be chosen based on your budget and preferences. A go-to for cheese boards in the Oliver Winery Tasting Room is Volpi Genoa Salami. It is mild enough to pair with almost any wine, and just peppery enough to spice up your board. If you are including more than one meat, we recommend variety: choose one meat that is mild and another with a little more kick.
A spicy chorizo, for example, would be a flavor and color boost alongside the mild genoa salami. And zesty pepperoni is a surprisingly good match for Sweet Red. (Read more about our Concord wine's love for pizza here.)
Now for a few not-so-traditional meat options a wine lover might enjoy! Smoked salmon is savory and delicate, and pairs uniquely well with citrus-forward dry wines like Sauvignon Blanc. You can find smoked, cured salmon flavored with peppercorns, brown sugar, or fresh herbs. Another less-traditional but equally satisfying meat option is smoked turkey or even ham! You might already have some of these in your refrigerator- don't be afraid to throw those in if you love them! Any thinly-sliced meat is a nice addition to a your cheese board, even if it has a name you can pronounce!
Or, if you prefer to avoid meat all together, go for options such as roasted chickpeas, boiled eggs, or sugar snap peas – yum! Even crispy, spicy tofu can be a fantastic option for a top-notch vegetarian cheese board.
Fruit:
Fruit is cheese's best friend. That's one of the reasons why cheese and wine pair so well together! When choosing fresh fruit for your cheese board, you really can't go wrong. Common choices are berries, grapes, and sliced apples. Blueberries and raspberries pair well with something bubbly. Go wild and add some slices of kiwi or pineapple if you have them! In fact, pineapple goes very nicely with Oliver Sweet White Wine or a fruity Sangria!
Dried fruit adds jammy, rich flavor to accent your creamy cheeses and strong proteins. It will also add nice candied texture to your board. Bright orange dried apricots will liven up your cheese board and make it more insta-worthy, for sure. You know … if that's what you're going for.
Something salty:
Do you like olives? They're divisive little fruit! Those who love them can't live without them on a cheese board. The briny, salty, sometimes tart taste of olives wonderfully breaks up the creaminess of cheese.
For the same effect, try pickled asparagus, peppers, or green beans: you can find them in the same aisle as your regular pickles! You might be surprised at how lovely a vinegar bite will delight your palate when paired with the fatty meats and cheeses on your board.
Something crunchy:
This is your opportunity to add some texture to your cheese board. A little crunch is important! Go nuts: almonds, cashews, walnuts, peanuts! Whether raw or roasted, nuts are a staple.
Don't be mad: fresh vegetables can also deliver a satisfying crunch and a refreshing balance to your board. Carrots, celery, sugar snap peas! Especially if you're including a dip or spread, veggies can be a great vehicle for flavor.
Jam and Mustard:
Even just a tiny spoonful of a luscious jam or a robust mustard goes a long way on a cheese board. In the Oliver Winery Tasting Room, we often use Stonewall Kitchen's sweet little jars of jams, jellies, and dips when setting up a spread. They offer everything from Strawberry Champagne Jam to Maple Bacon Aioli. This is also a great place to work in a local offering or a homemade jam.
If you're really going for something simple and you don't already have an open jar of jam or mustard, this is one of the items you could skip entirely.
Chocolate:
We're sorry, we don't make the rules: you have to put chocolate on your cheese board. Your wine will thank you. And if you're wondering: "how do I choose the right chocolate for my wine?" Follow the same suggestions we discussed for cheese: pair bold wines with stronger, darker chocolates. Lighter bodied, fruit forward wines with lighter profile chocolate. For example, bittersweet chocolate with Zinfandel; Creamy milk chocolate with a gentle, 100% Pinot Noir or semi-dry Gewürztraminer.
Carbs:
Choose a cracker that is sturdy enough to scoop up creamy cheeses. We also recommend going with a simple cracker that's just a bit salty: nothing flavored or overpowering. You want the cracker to taste good, but to allow the flavors of the other hand-picked items on your cheese board to really shine.
For variety, add pretzels, popcorn, or even fresh bread.
Wine:
You've likely already had your favorite wine in mind while reading. We're definitely thirsty by now. Even though it's at the end of this list, we are making a wine lover's cheese board. In reality, you should start with the wine. Use your wine preferences to guide your selections. If you're entertaining guests, consider purchasing a few bottles outside of your typical comfort zone to explore together while you graze. You can shop by wine collection here or find Oliver Wines in a store near you.
Next, how to put it all together…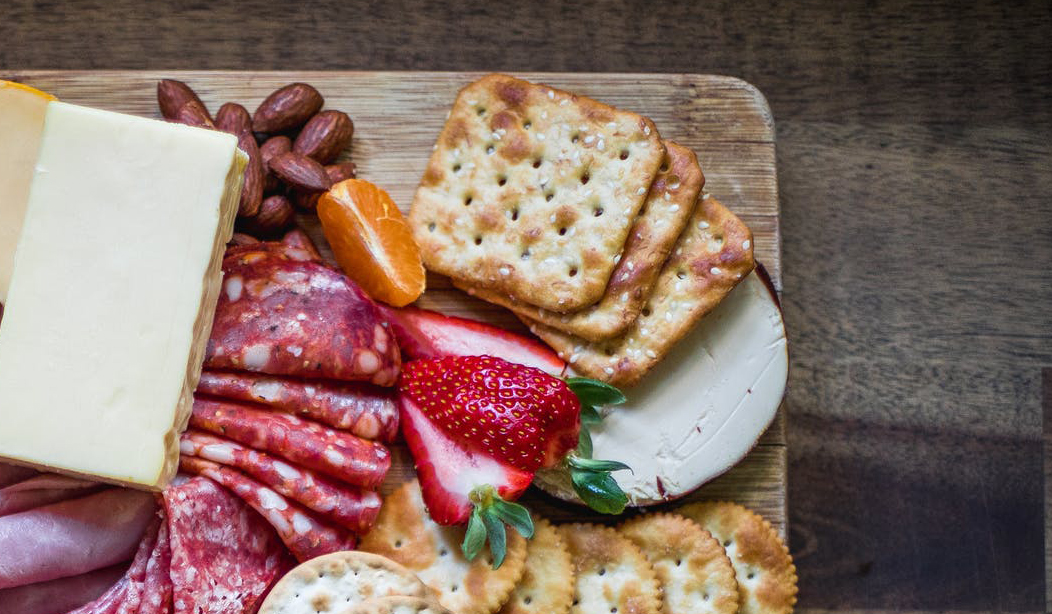 "
"The most important rule is this: if you like it, it's a good pairing."
— Wine Lover
How to put it all together
You've gathered a delectable assortment of goodies to pair with your wine. Now it's time to assemble.
Place your largest items first— likely the cheese and meat. Sometimes the package might contain more than what you want to display on your cheese board. Save some for snacking later or for your next creation!
Make it easier on yourself by only partially slicing the cheese block and leaving the rest whole for guests to slice as they eat it. This helps preserve the cheese if there's any leftover, too. When placing the meat, fold and pile thin slices on top of one another into small piles in no particular pattern. Depending on how much space you have, you might consider separating the meat into multiple, small piles instead of putting it all in one place.
Now that your large items are assembled, place jams, jellies, mustards, or spreads (if you have them). We like to scoop these items up into a spoon and just lay the entire spoon on the board. Typically, a spoonful is plenty for lightly topping a few bites here and there. Plus, the spoonful just placed on the board looks rustic and elegant.
Lastly, gently incorporate all of the other items. Sprinkle a few almonds in open corners, arrange your berries along the sides (or even on top) of a cheese block, make small piles of crunchy, chocolatey, and pickled components to fill the empty spaces. What makes the assembly of your cheese board perfect is actually the lack of perfection: fill your board with random pockets of delightful colors, flavors, and textures. Don't worry if things touch or spill into one another.
Time to begin the grazing! It can be tough to destruct your beautiful cheese board creation, but like unwrapping a package, it's oh-so worth it!
We hope you'll use these tips from a fellow wine lover for a DIY cheese board to come together with friends. Cheers!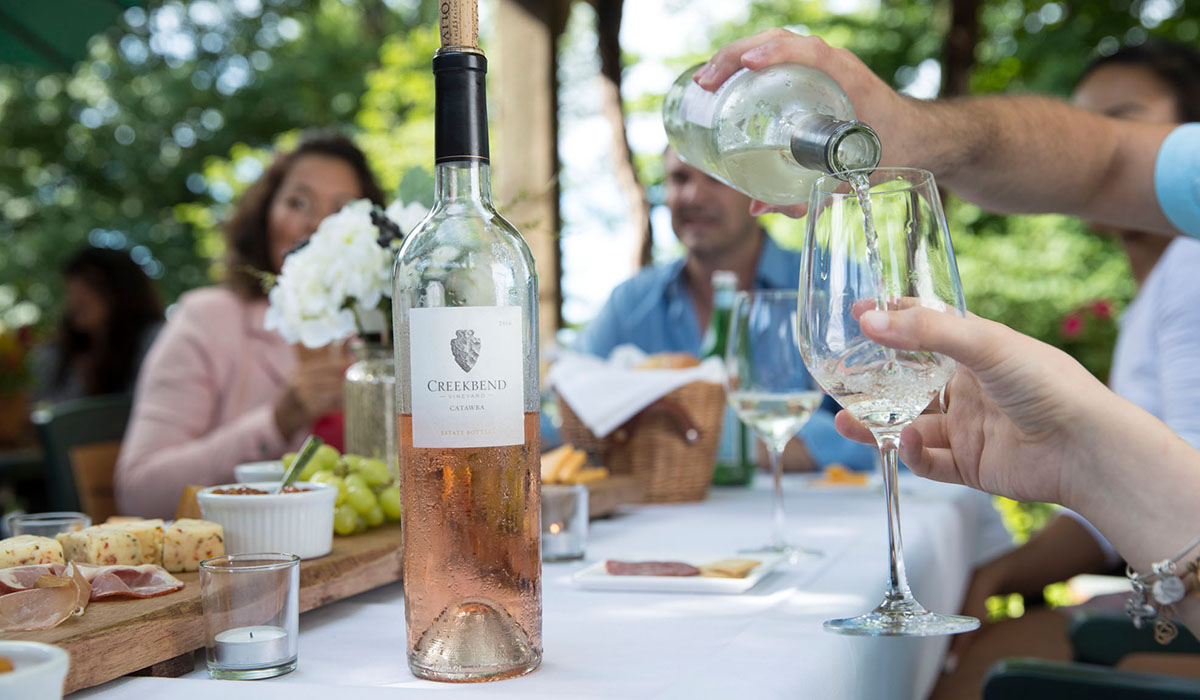 You're living here on the sweeter side of life, loving all of the fruity, sometimes bubbly, ever-luscious wines. Think Moscato and Catawba. As you pour another glass and get a back-up bottle chilling in the fridge, you wonder, "how can I make this moment even better?" Cheese. The answer is cheese.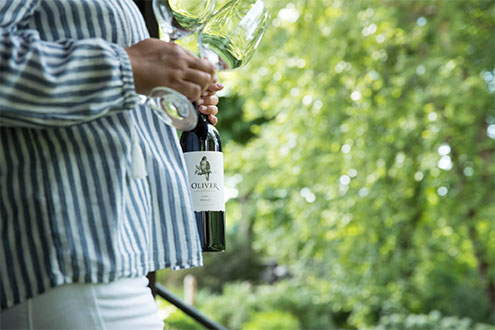 It's always the right time to pair two of life's greatest gifts: wine and cheese. For those who prefer the dry classics (think Pinot Noir and Sauvignon Blanc), your refined palate calls for well-crafted cheeses and creative, yet proven pairings. If you're shopping the cheese aisle wondering, "how can I pair my dry wine with cheese?" We've got just the suggestions you're looking for!